The story of Billy Hayes and his daring escape from a Turkish prison and eventual return to a country that had blocked him from re-entry for more than 30 years is the center of "Midnight Return: The Story of Billy Hayes and Turkey" the feature-length documentary directed by veteran daytime writer Sally Sussman Morina ("The Young and the Restless," "Another World," "Days of our Lives," "Generations"). The documentary will make its U.S. debut during "The 31st Annual Santa Barbara International Film Festival" next week.
It was in 1970 when Hayes decided to take a break from college and enjoy the world around him. While preparing to board a plane out of Istanbul, Turkey, Hayes was found in possession of 4 lbs of hash with plans to smuggle it out of the country. After a swift investigation and broken promises, Hayes was sentenced to 30 years in prison. After only five years into his sentence, Hayes made a daring escape and fled the country.
In 1977, he released his autobiography, "Midnight Express," which revealed in great detail his ordeal. A film version of the book was released the following year and received several Oscar nominations, including Best Picture. It won two Oscars — Best Original Music Score and Writing Adapted Screenplay. The film was nominated for and won the Golden Globe Award for Best Motion Picture – Drama.
After the film's release, Hayes became an international celebrity and an enemy of Turkey, whose citizens even today continue to talk ill of him when his name is brought up.
"Do you know how Billy Hayes escaped from Turkish prison? If you saw 'Midnight Express,' then you don't know how he did it. There is much more to the story than has ever been told anywhere, except in 'Midnight Return,'" reads a posting on the documentary film's Facebook page.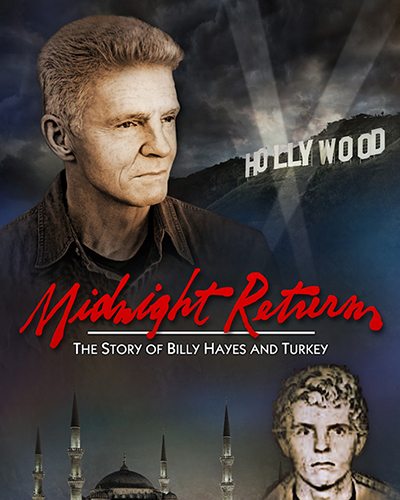 Audiences can expect to follow Hayes on his journey back into a country that had condemned him and the motion picture Turkey deemed to be racist, and the culprit of international defamation against its people and its culture. The documentary shows Hayes as he tries to make amends with the country while also seeking re-entry, and finding himself blocked at every turn until he receives an unexpected invitation from what is said to be an "ironic source."
In addition to Hayes, "Midnight Return" also features commentary by Lord David Puttnam, Peter Guber, Giorgio Moroder, "Midnight Express" director Sir Alan Parker and Oliver Stone. Stone won the Golden Globe Award for Best Screenplay – Motion Picture for his work on the film.
"We couldn't have gotten this film done without the cooperation and support of the Turkish American community," said Sussman of how things fell into place.
The U.S. premiere of "Midnight Return" is scheduled for Friday, February 12 at 8:20 PM at the Metro 2 Theatre in Santa Barbara, CA. An encore screening will take place the following day, Saturday, February 13 at 2:00 PM, at the Metro 1 Theatre. The theatres are located at 618 State Street, Santa Barbara, CA 93101.
Each screening of the documentary will be followed by a Q&A session with Sussman and Hayes.
On Thursday, February 11, Sussman will take part in the Global Hollywood Panel at the Engel & Volkers Pavilion.
For ticketing and location information, or more information on the documentary, visit sbiff.org/midnight-return or sbiff.org/productcategory/2016-sbiff-tickets to purchase tickets to the festival.
Follow "Midnight Return" on Facebook, Twitter, or Instagram. You can also visit the official website.