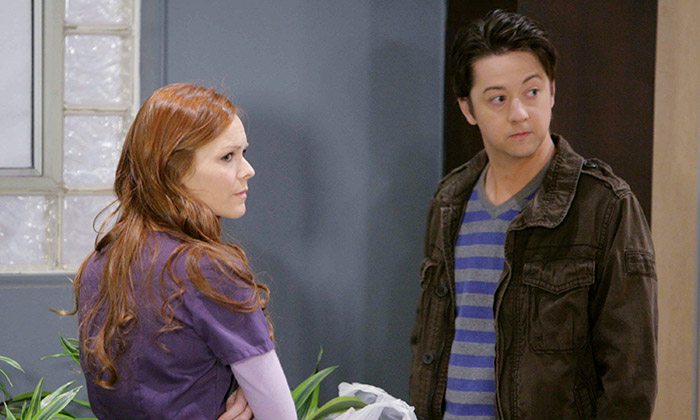 Port Charles is getting ready to celebrate the holiday season in style – and with a few surprises. Here's a sneak peek at "General Hospital's" upcoming Nutcracker Gala, airing in December.
A few details about the splashy affair were revealed during a backstage tour of the soap on "Good Morning America," which was hosted by Laura Wright (Carly) and Executive Producer Frank Valentini.
"Today, we're shooting some of the holiday stuff," said Valentini. "We have our Christmas parties, our New Year's Eve parties, and all of the holiday celebrations. So when we go inside you'll be able to see that."
And then some. When Wright led the camera crew into the wardrobe room, two familiar faces popped up: Bradford Anderson (Spinelli) and Emily Wilson, who plays his longtime girlfriend, Ellie. Both actors will be back on the show in December, which should mean a very happy holiday for Maxie, who'll likely be reunited with her daughter Georgie.
Wright also pointed out a board containing pictures of the soap's actresses donning an array of gorgeous gowns. "It's what we're all wearing for the holiday ball," she noted.
That ball is the Nutcracker Gala, which will be held at at the Metro Court hotel and benefit real-life charity Toys for Tots.
"The first day is fun," shared Wright, regarding getting all decked out to tape those big, splashy party scenes. "But day three, you're like, 'Really? My feet!'"
Not all the ladies on the show will be in heels and formal wear during the December festivities. Look for Finola Hughes (Anna) to be playing Mrs. Claus in a couple of episodes and wearing a red velvet, Santa-inspired costume. "It is a little sexy," noted Wright.
Meanwhile, Hayley Erin (Kiki) will be going the elf route in a red and green ensemble topped off with a cap embellished with jingle bells. Erin was rehearsing with Maura West (Ava) and a stunt Avery doll during the shoot. Might that mean there's a mother-daughter reconciliation on the horizon?
An outdoor park set was also fully decorated for the holidays. "Santa comes and makes a visit on Christmas," revealed Valentini, noting that that was where he would be "greeting the kids." And, no doubt, doling out a few presents, too.