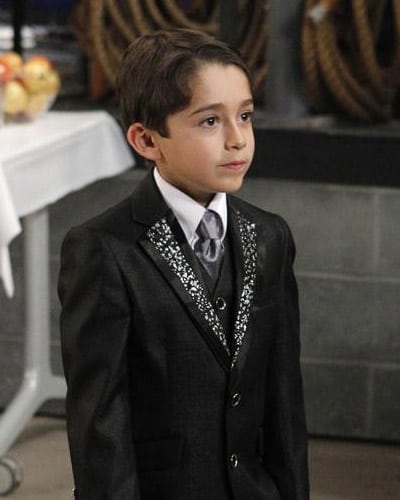 Since joining the cast of ABC's "General Hospital" in the recurring role of Spencer Cassadine last year, 8-year-old Nicolas Bechtel has literally stolen the spotlight from some of the veteran cast with his one liners and spot on delivery. Will he do the same when he appears on FOX's newest comedy "Red Band Society" this fall? Earlier this week Bechtel tweeted, "Atlanta has been great. Working on @RedBandSociety was awesome. Almost time to head back to LA." Since then fans have wondered what role he'll end up playing on the Steven Spielberg executive produced series and Soap Opera Network has the scoop!
A representative for the show tells us that Bechtel will appear in one and possibly more episodes of the comedy as a younger version of actor Nolan Sotillo's (pictured right) character, Jordi Palacios, in flashback scenes beginning with the show's third episode – tentatively scheduled to air on Wednesday, October 1.
When not appearing as his younger self, Jordi is a 16-year-old who comes to California to seek treatment at the renowned Los Angeles based Ocean Park Hospital. What Jordi soon discovers is that it's not his illness that's going to change his life, but his new friends, which includes twelve-year-old narrator Charlie (Griffin Gluck), who is in a coma and introduces viewers to the band of unlikely friends.
Also starring in "Red Band Society" are Academy Award-winning actress Octavia Spencer ("The Help," "Fruitvale Station"), Wilson Cruz ("My So Called Life") and Dave Annable ("Brothers & Sisters," "666 Park Avenue"). The series premieres Wednesday, September 17 at 9:00 PM ET/8:00 PM CT on FOX.
To get a glimpse of what Jordi looks like as a teenager, watch the clip below: