CENTER STAGE: Chrishell Stause Reveals 'DAYS'' Jordan To Get Scrappier As Secrets From Her Past Explode!
John Paschal/JPI Studios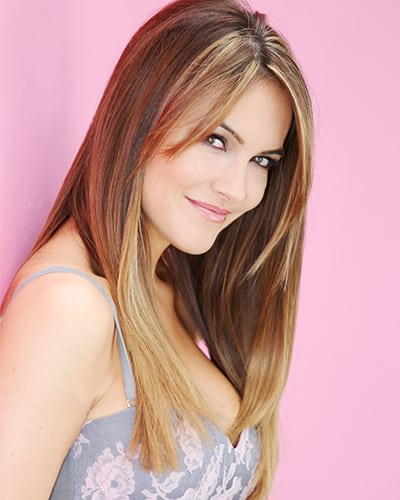 "Days of our Lives'" Kate (Lauren Koslow) wasn't the only one who was shocked when Jordan (Chrishell Stause) hauled back and slapped her across the face for sleeping with Rafe (Galen Gering): Viewers were a bit surprised to see the formerly timid physical therapist continue to grow her backbone, as well. And when Soap Opera Network recently caught up with Stause, she revealed that this is only the beginning of her alter ego's catty side. In fact, Jordan will be getting tougher and tougher as more and more secrets about her unfold!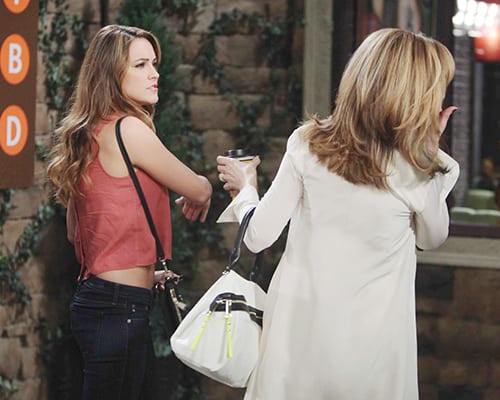 It was the slap heard around the world — or at least around Salem — and it's one that will go down in soap opera history for Stause. "Oh my gosh, it was so fun to do," the actress enthuses with a laugh about the opportunity to physically attack her popular co-star once more. "Anytime you get to do classic soap moments, especially with someone as great as Lauren Koslow, it's just so much fun. And I think it was nice for Jordan to find her backbone a little bit. She was trying so hard to blend into the background and not bring attention to herself from everything she was running from, and you'll see that as these secrets unfold, you'll get to see her actually not being scared anymore, to be able to stand up for herself and defend herself."
That is, with everyone but Rafe, who still has her heart, despite his recent transgression. "She definitely [reacts differently with Rafe]," Stause explains of her alter ego's emotions over his mistake. "She sees that Kate has masterminded this whole thing. And Rafe isn't a victim, of course, but I think she's sad that he fell for it — more disappointed and sad [along with being] angry. You probably go through a lot of emotions when something like that happens, but I think with him, it's more so just really saddened that he would have thrown all of what they shared away for something so fleeting and for somebody who Jordan sees as so manipulative and so see-through. She can't believe that someone as smart as Rafe, being a detective, can't see right through that! So I think she's just disappointed with him more than anything — and you know when a parent says they're disappointed in you, it's so much worse than when they're mad."
But will Rafe jumping in the sack with Kate be the final straw in his and Jordan's relationship? Stause doesn't think so! "When somebody does something like that, I don't know that it can ever be the same completely," she explains. "But if anything, it definitely gives them a lot of layers to play, because that's now a history and a past: If they do try to work it out, it's going to give more meaning to a lot of different things, because there's that past. If they don't, say you're just running into someone in the Horton Town Square, it's different than just running into anyone. So I don't know exactly which way 100 percent they're going to go with it, but I do love working with Galen, and I feel like even though it's not the most happy place right now with the two of them, I do feel like it's very obvious that they care about each other a lot and that mistake doesn't change that for either of them."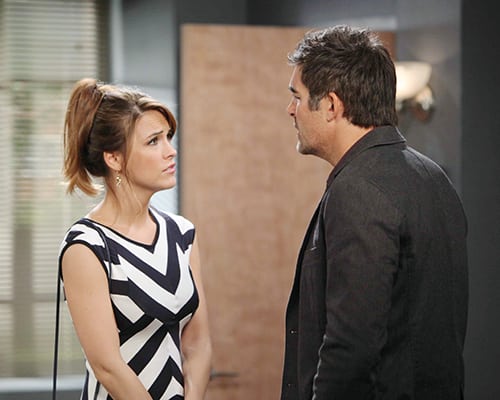 However, Jordan may not have a whole lot of time to focus on romance, because whatever she's been running from since arriving in Salem is about to bite to her in the butt — and it's bound to leave one big, ugly scar! "As far as the storyline goes, I honestly can't wait for what's coming up," Stause teases. "I've already filmed it, and it's so good. I'm happy with the way it turned out, and I know it took awhile to get there, but the storyline that unfolds, which is what is unraveling now, I feel like it's going to be worth it. I'm really happy with the layers and the performances; it's gonna get a little juicy!"
The actress couldn't say specifically what is about to explode on screen, but she hints viewers have already seen the edges reveal themselves. "Clyde (James Read) is her stepfather, and Clyde is Ben's (Robert Scott Wilson) biological father. And they share a mother. Now, where is the mother?" she asks in a teasing manner. "And why did they leave when they left? What is Clyde involved with now that he's in Salem? And it has come out that he was physically abusive with them… and obviously, there's going to be a bit more of a Pandora's box that opens with that."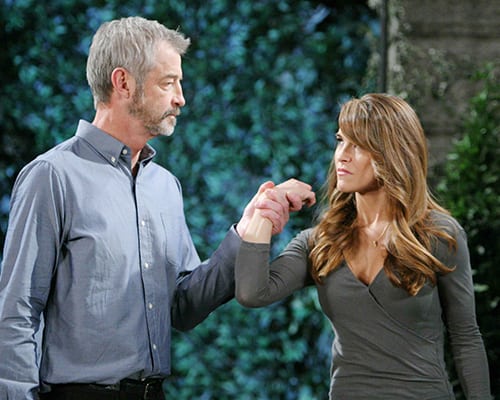 In fact, Stause teases that SO much more is about to hit the screen. "We're going to see exactly what it is that she was so fearful of, and why she put so much effort into running away like that and not having a life, jumping from state to state with her brother," she says. "There's deeper stuff there, which I'm excited for everyone to see!"
As for whom she'd love to see play her mother (if "DAYS" plans to bring one into the story, of course), Stause is torn: "There are so many people," she enthuses. "Eileen Davidson (Kristen DiMera) is already taken as another character, but I would totally pick her. Kassie DePaiva (Eve Donovan) would be another person, but she's already taken, too."
So who to turn to? "Susan Lucci!" she exclaims of her former "All My Children" co-star/current star of Lifetime's "Devious Maids." "She used to play my boss on 'AMC,' so that would be great!"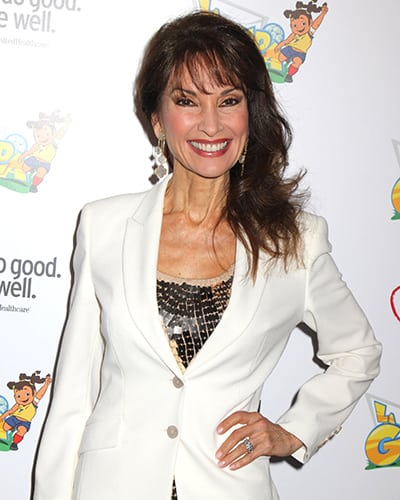 Time will tell whether or not the sudser will cast a mom for Ben and Jordan. In the meantime, Stause is enjoying the onscreen family she's already got. "[Robert Scott Wilson] is great; he's from Boston, and he's got such great energy," she shares. "I feel like he really brings a great passion to his character and he's got that good fire that they wanted Ben to have, because he's a little angry about the past and what's been taken from him and that kind of stuff, so I feel like he adds a lot, and I love working with him. I feel like we have a really good rapport as brother and sister. He's a really cool guy."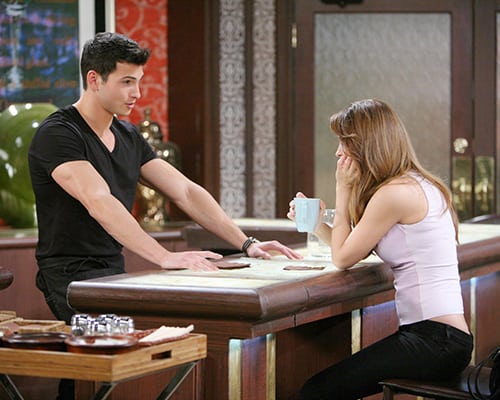 And she says working with Read has been a blast, too. "I swapped a crazy mom for a crazy dad!" she jokes of her "AMC" past, where her Pine Valley alter ego, Amanda, called crazy Janet From Another Planet her mother. "I like the element of having a hard past and that kind of stuff… Everyone wants to play crazy, because it's just more fun to play, and if it makes Jordan crazy, bring it on!"
No matter which way the story goes, Stause assumes that her alter ego is strong enough to hold her own. "Anyone who's a tough as nails physical therapist definitely has [strength] in them; when you think about the job and what that would entail the whole time, I feel like they have to be really tough personalities," she explains. "So I'm excited for viewers to see more of that side of her, because once you realize everything that she's gone through, when you see what's coming out as the next month rolls along, you'll see definitely see that she's not a shrinking violet!"