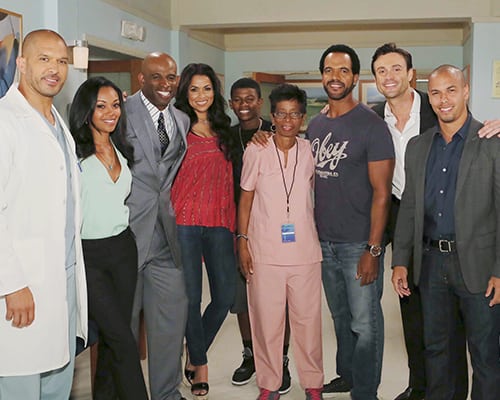 "The Young and the Restless" is no stranger to having sports stars visit Genoa City (Seattle Seahawk Superbowl champ Michael Robinson appeared earlier this year), but the next sports/soap opera crossover the sudser is planning has a bit of a twist: Instead of an athlete appearing on the show, it'll be an athlete's mother!
That's right: Connie Knight, mother of sports superstar Deion Sanders, will be visiting Genoa City on Wednesday, August 13. Sanders brought Knight as well as his girlfriend, Tracey Edmonds, to the set of the CBS sudser as part of his reality series, "Deion's Family Playbook," and Knight taped a scene while they were there.
To catch the fun, tune in to "Y&R" on Wednesday, August 13, and then tune into "Deion's Family Playbook" for the flip side when it returns to OWN: Oprah Winfrey Networks this fall!