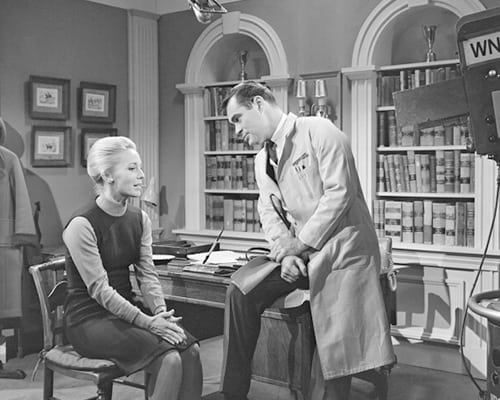 Daytime fans who might be feeling a little nostalgic for the "good old days of soaps" now have something to smile about: Reruns of NBC's former soap opera, "The Doctors," will soon be airing on Retro TV!
Luken Communications officially announced via a press release that the network will begin airing the sudser, which originally ran on NBC from 1963 to 1982, later this year. The series — which starred James Pritchett, Elizabeth Hubbard (ex-Lucinda Walsh, "As the World Turns) and a host of others — revolved around Hope Memorial Hospital's chief of staff and his dedicated employees.
Says Matthew Golden, Luken's Vice President of Production: "'The Doctors' is one of the greatest examples of the soap opera format in its prime, loved by critics and audiences alike. We're thrilled to return this classic series to the air, and bring its exciting, engaging storylines back to our audience's daily lives."
The series, which debuted on the same day as ABC's "General Hospital," ran for 19 years, spanning 5,280 episodes and winning several Daytime Emmy awards, including Outstanding Drama Series (in 1971, 1972 and 1974), Lead Actor (Pritchett, 1978) and Lead Actress (Hubbard, 1974). In that time, several well known stars appeared on the show, including Academy Award nominee Alec Baldwin ("30 Rock"), Academy Award Winner Kathy Bates ("Misery;" ex-Belle Bodelle, "All My Children"), Academy Award Winner Ellen Burstyn ("The Exorcist"), Emmy Award Winner Ted Danson ("Cheers"), Emmy Award Winner Terry O'Quinn ("Lost"), Brooke Shields ("Suddenly Susan"), Acaademy Award nominee Kathleen Turner ("Peggy Sue Got Married"), Kim Zimmer (ex-Reva Shayne, "Guiding Light") and Hillary B. Smith (ex-Nora Buchanan, "One Life to Live").
Look for the Retro TV debut of "The Doctors" later this year. And to find out where Retro TV airs in your area, click here.