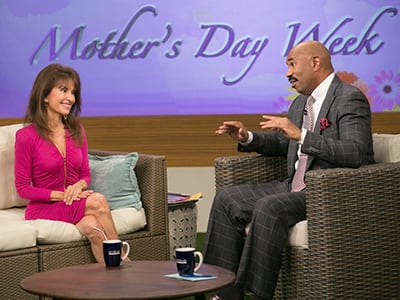 Set your DVRs not only for Lifetime's "Devious Maids," but also for "The Steve Harvey Show," as Susan Lucci (ex-Erica Kane, "All My Children") will be dropping by the talk show next week to celebrate Mother's Day!
On Monday, May 5, the New York native sits down with Harvey to share her own memories of motherhood, as well as what it's like to be a grandmother of four. Included will be her favorite motherhood memory, which was when she came home from the Daytime Emmys (after yet another non-win) to find that her children had decorated the staircase with a message about how much they love her.
Watch the hilarious teaser clips of her appearance below, and don't forget to check your local listings to find out when "The Steve Harvey Show" airs in your area!
[slideShowProSC width="640″ height="400″ album="50″]