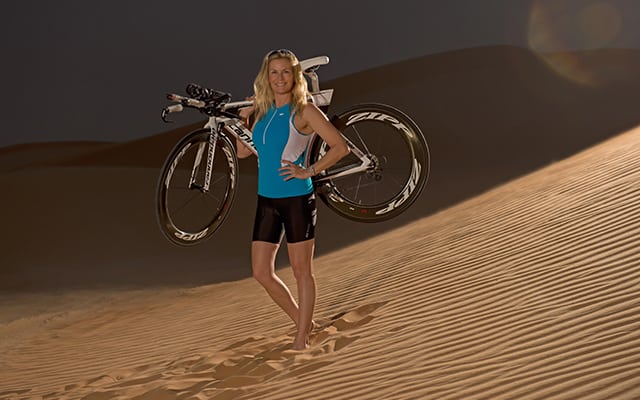 UPDATE: A brand new video of Lang exploring the United Arab Emirates has been added below!
As we previously reported, "The Bold and the Beautiful" is filming on location in the United Arab Emirates this week, but let's not all forget why the iconic sudser is in Dubai and Abu Dhabi in the first place: avid runner Katherine Kelly Lang (Brooke Logan) was invited to take part in this year's Abu Dhabi International Triathalon, and executive producer/headwriter Bradley P. Bell decided to follow her — with a film crew and plans for an exciting, international story arc! But before the "B&B" work took place, Lang competed in the triathalon, which happened on Saturday March 15. So how the actress do in the race? Read on to get the details on that as well as some fun photos and a video of her prepping for the tough physical challenge she faced!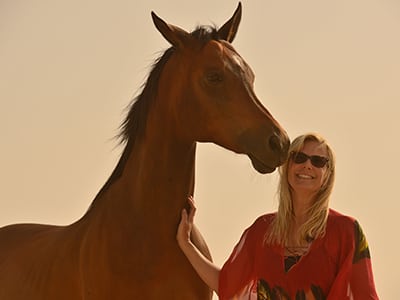 As Lang fans probably already know, the actress is quite the enthusiastic runner. She came in first place in her age group in last year's Los Angeles' Hansen Dam Triathalon, as well as the Los Angeles Triathalon. For the Abu Dhabi run, she signed up for the individual short course (a 0.93 mile swim, a 62 mile bike ride, and a 6.2 mile run), which she completed in an impressive five hours, 28 minutes and 16 seconds — 830th place overall, and 95th within her gender, out of 2324 entrants!
"[I'd] heard it's one of the world's most beautiful and challenging courses," Lang says of why she decided to compete in the Abu Dhabi International Triathalon, which included competitors ranging in age from 18 to 77. "I'm really stepping up my triathalon training with my end goal to compete in Ironman Hawaii 2015!"
Additionally, the actress competed in order to raise money for Breakaway from Cancer, a national initiative to increase awareness of important resources available to people affected by cancer.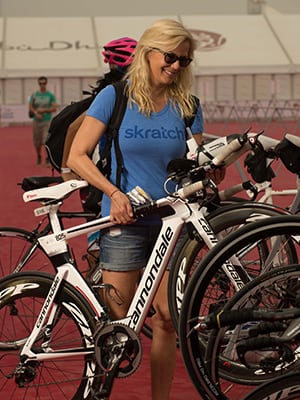 Meanwhile, Don Diamont (Bill Spencer) also took part in the triathalon, captaining the "B&B" Tri Team in an effort to raise money for The Don Diamont/Alyssa Mazur Foundation at UCLA's MS Research and Treatment Center. The actor started the foundation after his niece, Alyssa, was diagnosed with Multiple Sclerosis (MS). This was Diamont's first triathalon experience. "When Katherine told me she was taking part, I jumped at the chance to join her," the actor says. "I'm competitive by nature so, who knows, next year I may come back and do the full thing!"
For more information on the Abu Dhabi race and to see more detailed stats, visit the competition's official website. And be sure to catch "B&B's" exciting location shoot in the United Arab Emirates, which will begin airing in the US on Friday, May 23.In the meantime, check out this video of Lang exploring the UAE!