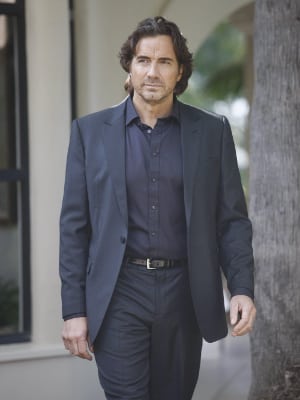 "The Bold and the Beautiful" kicked off its eight-episode filming excursion in Dubai and Abu Dhabi this week, officially becoming the very first daytime drama to shoot in the United Arab Emirates region! But just what can you expect from the exciting location shoot? Read on to find out!
"B&B's" Executive Producer and Headwriter, Bradley P. Bell, admits that he's been interested in the UAE for much longer than viewers might realize. "I've been fascinated with Dubai and Abu Dhabi for quite some time because of their spectacular skylines rising up out of the desert on the Persian Gulf and the fantastic convergence of diverse international cultures," he says, adding that he's looking forward to sharing the upcoming international adventure with fans. "In our story, business mogul Dollar Bill Spencer (Don Diamont) whisks his fiancée, Brooke Logan (Katherine Kelly Lang), off to the Emirates to marry her at this new crossroads of the world. Possessive ex-husband Ridge Forrester (Thorsten Kaye) follows them to impose his will on this romantic, stunt-filled action-packed adventure."
The exciting international story — which will feature scenes at Dubai's Atlantis, The Palm in Dubai, Burj Khalifa (the world's tallest building), the Dubai Mall Promenade and the Skydive Dubai Helipad, as well as Abu Dhabi's the Emirates Palace, Yas Marina Circuit and the Marina — will hit US airwaves beginning Friday, May 23 and lasting through Friday, June 6. Audiences across the Middle East will have to wait one year, when Dubai One broadcasts the exciting story arc.
Says Sarah Al Jarman, Dubai One Channel Manager: "We are very excited about 'The Bold and the Beautiful' coming out to Dubai and Abu Dhabi for the filming of their episodes. We have such a strong following for the show on our channel and having the cast here, and the team, filming in the region, really makes it relative for our viewer, which makes it that more engaging. Our strong partnership and collaboration with 'The Bold and the Beautiful' team is a very long term and mutually beneficial one. 'B&B' have warmly welcomed and engaged with our crew and presenters on their Los Angeles set and we will continue to support them during their Dubai visit."