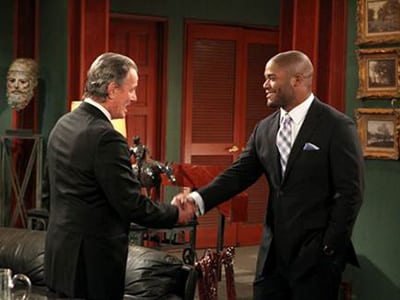 On Thursday, March 13, Michael Robinson, fullback of the Super Bowl XLVIII champion Seattle Seahawks, will make his acting debut on CBS' "The Young and the Restless," the network announced today.
In a recent interview with "NFL Total Access," Robinson revealed that his guilty pleasure is "watching the stories," particularly "Y&R." After learning of his interest in soaps, producers at the show invited the athlete to make an appearance. Robinson jumped at the chance to visit the soap and was thrilled when he found out that he had been written into an upcoming episode working with Daytime Emmy winner Eric Braeden, who plays Victor Newman.
A rep for the show tells Soap Opera Network that Robinson will portray a man named Michael Robinson, who is the VP Northwest regional Marketing in Seattle and stops by to see Victor.
"It was an amazing experience! I've been a fan for years, and it was great to meet the personalities on the show," said Robinson says of his time on set. "I've always thought Y&R was the best show on daytime television because their storylines are always entertaining and intriguing. They welcomed me with open arms, and I felt like a part of the 'Y&R' family."