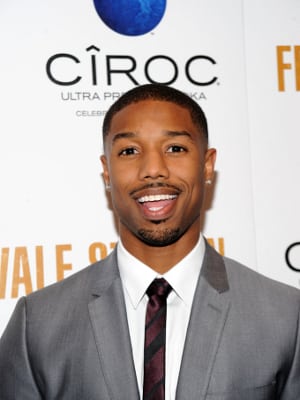 UPDATE 2/22: Jordan has now confirmed his "Fantastic Four" status – tweeting out "FLAME ON!" and the "Fantastic Four" logo to his 140K Twitter followers.
PREVIOUS: Michael B. Jordan has come a long way since his role on "All My Children" as streetwise teenager Reggie Porter. He's won several independent awards for his role in 2013's "Fruitvale Station," the highly-talked about drama about the real-life murder of teenager Oscar Grant. He can also now be seen in the comedy "That Awkward Moment," alongside Zac Efron ("High School Musical") and Miles Teller ("The Spectacular Now"). But in 2015, Jordan may be stepping into his biggest role yet.
According to Deadline.com, Jordan is currently in talks to join the cast of Marvel's "Fantastic Four" as Johnny Storm AKA The Human Torch. Also in talks for the principal characters are Kate Mara ("House of Cards"), Jamie Bell ("Billy Elliot"), and Jordan's "That Awkward Moment" co-star Miles Teller.
Jordan's involvement in particular is considered a sure thing, according to Deadline. If he does join the cast, he'll play a character with a history going back to a 1961 comic created by legendary creators Stan Lee and Jack Kirby. In the "Fantastic Four" comic books, an accident during a scientific mission to outer space gives a team of four scientists superpowers. The group consists of Mister Fantastic (who can stretch his body into incredible shapes), The Invisible Woman (who can turn invisible at her will), The Human Torch (who can fly and generate flames), and The Thing (who possesses superhuman strength due to a rock-like exterior).
In 2005, a "Fantastic Four" movie was produced with Ioan Gruffudd ("King Arthur"), Jessica Alba ("Sin City"), Chris Evans ("Captain America: The First Avenger"), and Michael Chiklis ("The Shield") in the respective roles. A 2007 sequel titled "Fantastic 4: Rise of the Silver Surfer" was also produced, but the series ended there. Several years ago Fox announced its intentions to reboot the franchise.
While the cast isn't official yet, there is rumored to be an announcement coming in the next few days. The new "Fantastic Four" movie will hit theaters June 19, 2015.