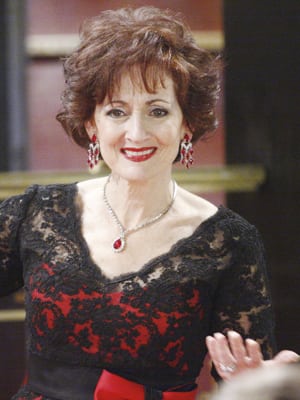 "One Life to Live's" Robin Strasser (ex-Dorian Lord) is known for being very open on Twitter regarding the cancelation, revival, and then shelving of "OLTL." While most of the other "One Life" actors have decided to remain more tight-lipped, Strasser has often taken to the social media site to make her feelings known.
Earlier today on Twitter, she revealed that she recently asked Prospect Park Productions to pay out the balance of her one-year contract. According to Strasser, she only worked and was paid for eleven weeks before production was halted, despite signing on for a year. "#PPP sed w/ due respect: NO," Strasser tweeted. She explained that legally Prospect Park Productions had in their contracts that if the show ceases production, then the company isn't required to pay out the rest of the agreed-upon salaries. "Ergo: shelved = no dough for many," Strasser continued.
Still, Strasser said "I LOVE #PPP OR any entity that goes the DISTANCE for #OLTL #AMC." When a fan responded that Prospect Park not paying out her contract was horrible, Strasser even defended their decision. "NO it's BUSINESS…and it's called Show Business…I applaud smart producers- as long as they don't 'give me the business' LOL."
But the former Dorian Lord isn't giving up on seeing "OLTL" back on the air somewhere. She even offered up a possible solution to the current legal drama between ABC and Prospect Park. "#ABC & #PPP negotiate compromise – #AMC #OLTL back on network – PP gets fair $hare MAGIC?" She even admitted that if ABC were to "get smart again," she'd return to the show on recurring status.
Strasser's tweets in full are below.
OK-I'll step IN it:) I signed a #PPP contract for a full year! When they "shelved" #OLTL pending lawsuits w/ #ABC I did NOT think: cancelled

— robin strasser (@robinstrasser) January 27, 2014
SHELVED doesn't mean CANCELLED. Vet me w/dictionary-W/guarantee of a # of weeks work during a year-I worked 11 until "SHELVED" stay tuned… — robin strasser (@robinstrasser) January 27, 2014
NAIEVE is not a word often applied to me LOL but I want #OLTL #AMC to be REVIVED & STAY THAT WAY! SUE ME:) & if I've mis-stepped-they WILL:)

— robin strasser (@robinstrasser) January 27, 2014
I RESPECTFULLY requested to be paid the balance of my 1YR contract on or about 2/14 if production didn't resume. #PPP sed w/due respect: NO

— robin strasser (@robinstrasser) January 27, 2014
I LOVE #PPP OR any entity that goes the DISTANCE:) for #OLTL #AMC 🙂 I'd go recurring if #ABC gets smart again LOL I'm so smart I'm stupid:)

— robin strasser (@robinstrasser) January 27, 2014
Back to conclude point: Legally #PPP has in their contract the term: ceases production. Ergo: shelved='s no dough for many:( shelf=cancelled

— robin strasser (@robinstrasser) January 27, 2014
Does this mean "give up"? or start hunting down meanies? I'm too exhausted & chubby for that:) But I remain BIG on #SOAPS & FANS who LOVE'em

— robin strasser (@robinstrasser) January 27, 2014
FACE SAVER I'm a Magical thinker-IMO a good solution: #ABC & #PPP negotiate compromise- #AMC #OLTL back on network-PP gets fair $hare MAGIC?

— robin strasser (@robinstrasser) January 27, 2014
I'M STEWING TOO LONG (lol) I've got to go live my purported real life…but I'm sure I've got more than ONE Life to Live Dagnabit I MISS it

— robin strasser (@robinstrasser) January 27, 2014