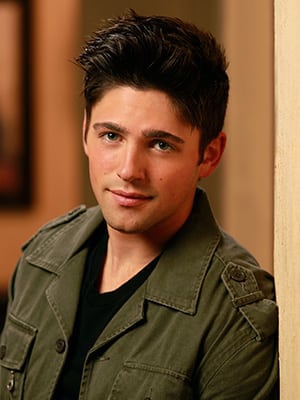 Robert Adamson may best be known as "The Young and the Restless'" Noah Newman, but what many fans might not know is that the actor is also a talented director. He's made several short films — and he even met his real life flame, Linsey Godfrey (Caroline Spencer, "The Bold and the Beautiful"), after casting her in one of his recent projects! Soap Opera Network caught up with Adamson, who gave us the scoop on his films, love life, "Y&R" and more!
Being a soap star comes with a pretty demanding schedule, but Adamson still manages to devote a lot of time to directing. In fact, the star recently made two very different short films that he's excited for fans to see. One is "Something Wicked," a horror film from the imagination of his friend, Jordan Ross, and the other is "Running Up That Hill," a scripted drama meant to bring suicide awareness that stars Godfrey and "Days of our Lives'" Casey Jon Deidrick (ex-Chad DiMera).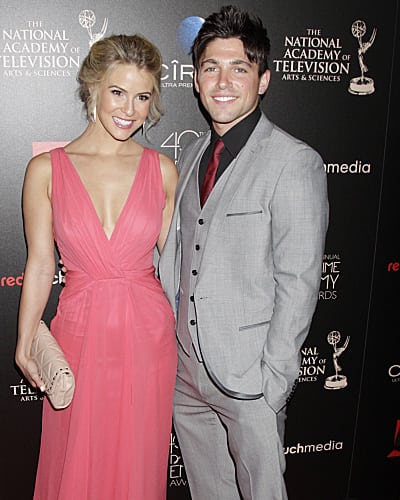 "The whole thing kind of started because I wanted more control over my creative process," the actor explains of how he originally got into directing. "I spent most of my younger years just focusing on acting, and the more time went by — and I think every actor goes through this — I realized, 'I don't have any control over this whole storytelling process. And what am I actually trying to say?' And that can be frustrating, because you realize that 10 years has gone by really quick, and you're like, 'Well, I really haven't said anything that I want to say yet,' you know? Because you've been telling everybody else's story."
Armed with that motive, Adamson began making his own films — all with his own camera and next to nothing budget wise. "I've sort of been on a personal quest to go out and shoot as many different, interesting things as I can with pretty much little or no money and try and make them look as professional as possible," he says.
Luckily, he's succeeded, as "Running Up That Hill" proves. And he's very honored to have been given the opportunity to not only create such a moving film that deals with suicide awareness, but also to work with talented stars like Deidrick and Godfrey. "I've got a number of daytime talent showing up in my films," he says with a laugh. "I was really fortunate that so many signed on."
In fact, he's extremely fortunate that Godfrey agreed to be in the film, because she later became his real life girlfriend — and is now pregnant with their first child! "I knew she was on 'The Bold and the Beautiful,' so I reached out to her and asked her if she would be in a short with me, and, you know, because she's so damn cute, I had to hit on her," he says with a smile. "I would love to do some more with her, to work with her more as an actor. It's not really biased that she is hands down the strongest part of the short. That opinion would be universal. She's so good in it. She's so talented."
Alas, Godfrey doesn't appear in "Something Wicked," but Adamson enjoyed making that film, as well — even though it came with challenges! "With horror films, there's always an aesthetic you want to achieve, which is really difficult when you don't have a lighting package," he explains. "I had to be a little tricky with the look of it. And… there's one scene that is six minutes of just dialogue, and that's a long time for people to pay attention, so [I wanted] to make something interesting, something shift and change. The tendency with some actors, especially when you're shooting film, is to be really still and not create too much dynamic movement, and I like a lot of movement — I like actors that do things and not just get stuck in a talking head motion. So I did a few things that, for the most part, worked out very well."
Of course, while he's making these films, he's also juggling the world of Noah! And that can get complicated at times. "It's been a little tricky, because I try not to bug [the show] as much as possible; I try to show up and be as professional as possible," he says. "I recently shot a horror film as an actor ["Villisca"], and I worked every day on the film. I don't know how I did it! I worked through the night and I'd get 45 minutes of sleep and then I'd go to 'Y&R' and make it seem like I wasn't completely exhausted, and then I'd have to go back to the film. So it can be tricky. There have been a lot of times where I've thought, 'Why are you putting yourself through this?!' But I love it."
Speaking of love, Adamson says that he's happy to see Noah in what he views as the character's first strong relationship — even if it's already filled with problems. "His past relationship with Adriana, it was all trouble all around. So he sees this as a grown up relationship," he says, adding that because it's a soap opera, more trouble is likely! "Maybe things with Courtney [Kelli Goss] will eventually rear their ugly head, but for him, this is a stable thing."