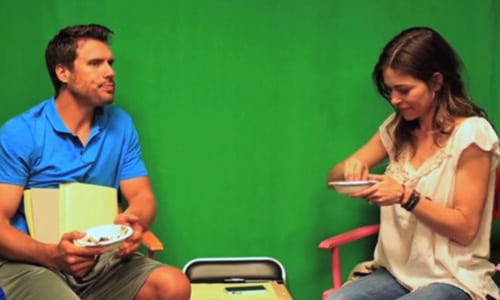 Wanna see something guaranteed to make you giggle? Then you won't want to miss the "The Young and the Restless'" Joshua Morrow (Nicholas Newman) in his new gig as a talk show host! The actor has teamed up with "Y&R" production staffer Greg Edwards to create a humorous show titled "Soaps and Other Stuff," which features "Y&R" stars answering ridiculous questions, playing silly games and being subjected to a multitude of other antics all dreamed up and acted out by Morrow himself as "host."
One installment features Emmy winner Peter Bergman (Jack Abbott) being asked how it was playing "Cliff Huxtable" on "All My Children," playing a game in which he names whether he prefers Hot Pockets or Pop Tarts, and "secretly" rocking out to heavy metal in his car!

Another installment features Jessica Collins (Avery Clark) fending off questions about "Leprechaun 4: In Space," discussing whether or not Morrow could compete in a beauty pageant, and rating her co-stars kissing ability!

Kristoff St. John (Neil Winters) jokes around with Morrow, who notes the actor's time on NBC's "Generations" and even goes behind the scenes of St. John changing in his dressing room. The hilarity ensued when Morrow said, "It has cameras. We have a boom!" after St. John questioned the validity of "Soaps and Other Stuff" as a show. Must watch!

Finally, an additional installment features Amelia Heinle (Victoria Newman) "revealing" how she shoves her tongue down Billy Miller's (Billy Newman) throat, throwing trail mix and…. well, you'll just have to watch to find out!