NEW+NOTEWORTHY: Deadline and TheWrap Observe The Resilience of Daytime Soap Operas
Disney/ABC Television Group ; CBS Broadcasting, Inc.
 NEW+NOTEWORTHY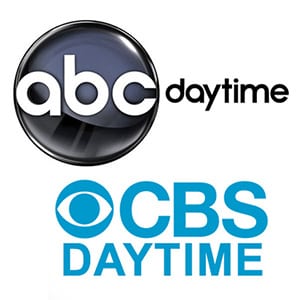 Each week Soap Opera Network publishes ratings reports that break down the highs and lows of the four remaining daytime soap operas – "The Bold and the Beautiful," "Days of our Lives," "General Hospital" and "The Young and the Restless" – in total viewers and the all important key women sales demos (Women 18-34, Women 18-49 and Women 25-54). Today, with both ABC and CBS noting the success of "GH" and "Y&R," respectively, TheWrap has published a piece entitled, "If Soaps Are 'Dead,' Why Are Their Audiences Growing?" In its report, the publication notes that each of the soaps are up season-to-date in all key ratings categories. Meanwhile, some of the replacements for the canceled ABC versions of  "All My Children" and "One Life to Live," specifically talk shows, have all "come and gone like, um, sands through the hourglass."
Meanwhile, Deadline Hollywood published a piece on the renewed success of "GH" and how it overtook "Y&R" to rank number one for the week in Women 25-54 for the first time in over six years.