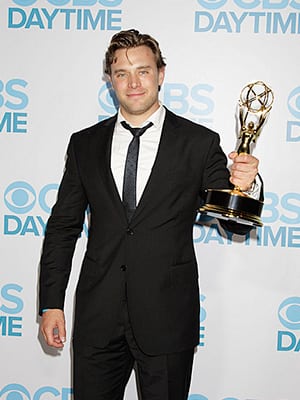 On Thursday, December 19, "The Young and the Restless'" Billy Miller said goodbye to his character Billy Abbott for the last time as the actor filmed his final scenes on the daytime drama series, which is set to air on Thursday, January 30, 2014 – the first day of the all important February sweeps ratings period. In a newly released interview with Soap Opera Digest, Miller reveals why he left the daytime soap and the role that won him not one, but two Daytime Emmy Awards for Outstanding Supporting Actor in a Drama Series.
When asked why he opted to leave, Miller says, "I was made a generous offer to stay on 'Y&R.' It was definitely a chance to gain veteran actor status. To pass was the hardest thing I've ever done. I was caught between a rock and a hard place. This is a great role to play; it afforded me a unique lifestyle. However, I realized if I took that contract, I would never know what else is out there. In the past, we were able to venture out of the 'Y&R' world; now it seems there is no longer that flexibility for me."
On his departure, Miller reveals that he didn't expect to last as long as he did. "I thought I'd be fired every day in the beginning. Now, the show was such a huge part of my life, there's an enormous hole to fill."
For his thoughts on how contract negotiations hit an impasse, the fan outcry over his departure, the return of David Tom to the role of Billy Abbott, going to work everyday knowing there was an end to the road in sight, reactions from his co-stars to the news of his departure and if he has any regrets, pick up your own copy of Soap Opera Digest (December 30 issue) on newsstands now.