'DAYS'' Eric Martsolf: Brady's About To Take His 'Darkest Fall' Yet!
Corday Productions, Inc.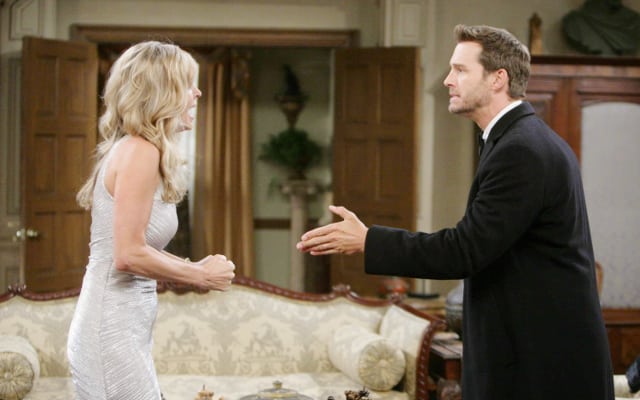 Longtime viewers of "Days of our Lives" have seen Brady Black (Eric Martsolf) live up to his last name on more than one occasion. The recovering addict has experienced a lot of misery in his life — both of others' doing, as well as his own — which has led him down some pretty dark paths in recent years. But when Soap Opera Network caught up with Martsolf to discuss his alter ego's weeks ahead, the Pennsylvania native revealed that Kristen's betrayal has sent Brady reeling — and this time, the CEO's dark descent into addiction, depression and self-destruction might take him so far down, he won't be able to get back up!
"There seems to be a pattern emerging here of Brady falling in love, Brady losing a woman and Brady falling into his habit of addiction," Martsolf observes of his character's development (or, arguably, lack thereof). And the longtime pattern has once again been set into motion, this time due to the explosive sex tape that showed Brady's fiancée, Kristen (Eileen Davidson), sleeping with the town's priest, Eric (Greg Vaughan) — a revelation that rocks Brady to his core.
"I won't hide any mystery about it: He takes one of the darkest falls that he's ever taken before," the actor reveals. "This is by far one of the biggest betrayals he's ever had in his character's history, and he's not going to take it lightly."
In fact, Martsolf says that Kristen's betrayal destroys his alter ego so much, nobody will be able to get through to him. "He's got people who love him and support him in the town, but it's such a betrayal, he really goes over the rails," he says. "He's not going to trust anybody anymore, and he's not going to love anybody anymore, and he's going to try and handle this himself. And when an addict tries to do that, it's usually not very pretty."
Not surprisingly, the storyline has forced the actor into some pretty dark territory, and he admits that getting into Brady's bleak headspace isn't always easy to do. "I've had a pretty good existence up until now," he explains. "Things have been good: I have a strong family unit back home, my parents are still together, a lot of my family members have incredibly long life spans, I personally haven't experienced a lot of loss in my life, so it is hard to create that. And that's what's hard for me at work sometimes, to make sure that this doesn't look fabricated, all of this pain."
So in order to delve deep and bring forth authentic emotion for viewers, the actor admits he goes where few tread: Thinking about all of the things that could go wrong with his children! "As a father, as a parent, you have that anxiety about your kids being out in the world and all of those "what if" questions, like, 'What if something happens to them at school?'" he says. "The idea of the loss of your kids, as dismal as that sounds, that's kind of what I tap into sometimes. And it's a scary place to go, but given the gravity of this character's issues right now, that's where I go. I think the fans deserve it. I've [signed] autographs for people who've been watching the show for 48 years, and the least I can do is bring the best meat and potatoes I can to the table."