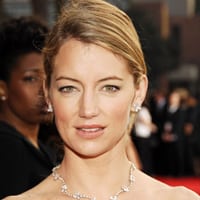 Former "Guiding Light" actress Cynthia Watros has been pulling double duty: Not only has the "Lost" alum been taping an upcoming three-day arc for "The Young and the Restless," she's also been gearing up to star in MTV's pilot, "Finding Carter!"
Deadline first reported the news that the actress had landed the drama pilot, which centers on Carter, a happy teen whose life comes crumbling down when it's discovered that her seemingly perfect mother actually abducted her! Watros (who's no stranger to bad ass roles, having won an Emmy for her portrayal of "GL's" psychotic character, Annie) stars as Carter's biological mother, a tough-as-nails detective who's hell bent on finding her daughter's kidnapper.
For more on Watros' busy schedule, including details on her November run as "Y&R's" Kelly, stay tuned for an upcoming interview with the actress!