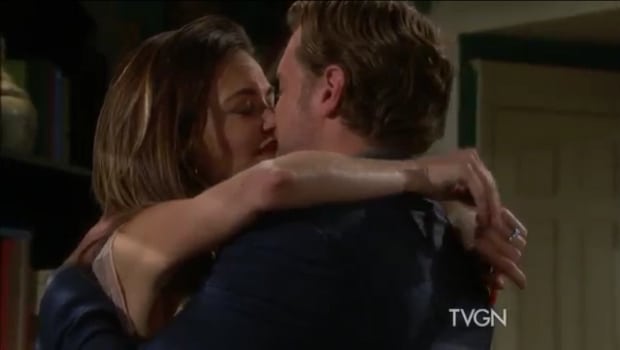 "I'll be spending my nights at TVGN," says Victoria Newman (Amelia Heinle) to Billy Abbott (Billy Miller), who walks in on his wife after hearing her say to an unknown individual, "My husband doesn't know…at least not yet," in a just released promo touting the "The Young and the Restless'" move to TVGN. "I was hoping you'd come with me," she tells Billy.
As previously reported, "Y&R" will be moving to TVGN (formerly TV Guide Network), which picks up same day airing rights of the soap from SOAPnet beginning Monday, July 1. Despite the move to a new network, "Y&R" will retain its 7:00 PM, ET/PT time slot, where it has built a solid following with viewers while episodes continue to air day-and-date with its broadcast airings on CBS.
CBS acquired 50% of TVGN (Lionsgate Television owns the other half) earlier this year and "Y&R" is the first program being introduced to the network by its co-owner.