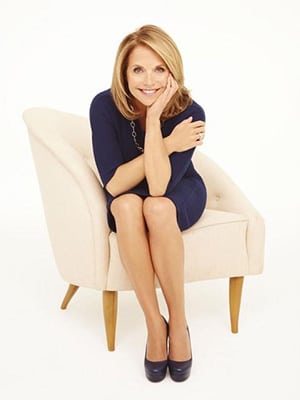 In an interview with John Nogawski, president, CBS Television Distribution, Broadcasting & Cable revealed that Disney/ABC Domestic Television is spending roughly $80 million just to get its Katie Couric hosted talker, aptly named "Katie," off the ground in the next couple of weeks.
"I think [Disney/ABC] cut a bad deal," said Nogawski. "They did get very large license fees, but the majority of those license fees are attributed to ABC's owned-and-operated stations. ['Katie'] is going to have to do a very large number for them to make money." By comparison, CTD is spending roughly $30 million to launch "The Jeff Probst Show" ($24 million on production, $6 million on promotion).
The large licensing fee is said to be one of the reasons CTD decided against signing a deal last year with Couric and "Katie" executive producer Jeff Zucker, following the end of her five-year run as anchor of the "CBS Evening News." Disney/ABC Domestic Television swooped in and signed Couric to a deal that displaces "General Hospital" from its long-time 3:00 PM ET/2:00 PM PT/CT timeslot.
The Couric and Jeff Probst hosted talk shows launch Monday, September 10 in national syndication, while that same day "GH" moves time periods to 2:00 PM ET/1:00 PM PT/CT on ABC.