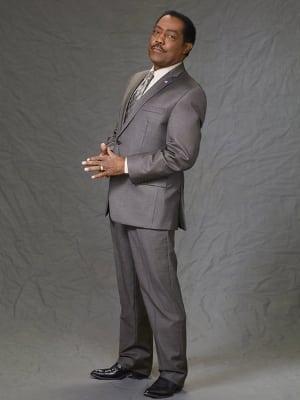 "Days of our Lives" star James Reynolds (Abe Carver), and his wife Lissa, need your help. Now through Wednesday, June 26, the duo are asking for donations to help the Fremont Centre Theatre get to the 2013 National Black Theatre Festival. "Our critically acclaimed production of "Holding On~ Letting Go" has been chosen to be a Main Stage show at the prestigious National Black Theatre Festival, and we need your help to get there!" reads a message from the duo promoting the Kickstarter endeavor.
Less than $300 separates the Fremont Centre Theatre from reaching their goal of $14,500. Currently 189 backers have stepped forward for a total of $14,290 pledged.
Donations through Kickstarter will enable us to transport actors, crew, props and wardrobe, build sets, and rent technical equipment. Donations start at $1.00. Any amount that you care to donate will be greatly appreciated!

Different donation levels come with different rewards, including tickets to our Bon Voyage show of Holding On~Letting Go at the Fremont Centre Theatre in July, signed scripts and posters by the cast and crew, free tickets to the FCT through 2014…and of course, all donors will have their name listed as an "Angel" on our website!

We are excited for the opportunity to bring the excellence of the Fremont Centre stage to a larger audience. Our campaign with Kickstarter is thoughtful, energetic, very necessary and cannot succeed without you!

-Sincerely, Lissa & James Reynolds
File Archive

To help the Fremont Centre Theatre meet it's Kickstarter goal of $14,550, each $ donated on Kickstarter from this point on will be matched by benefactor Mary Urquhart! That means every $20 you donate will mean $40 to our fundraising efforts.

This is an extraordinary gift! So if we raise another $3,000 through donations she will personally match it to complete our goal.

This opportunity to present the stirring play "Holding On~Letting Go" at the National Black Theatre Festival gets closer and we get more excitedPlease help us spread the word since we have only 6 more days to meet our goal! http://www.kickstarter.com/projects/fct/holding-on-letting-go-at-the-national-black-theatr
Photo: Group shot of cast. From left: Amentha Dymally, Lamar Hughes, Iona Morris, James Reynolds, Christian Malmin, Jill Remez, center: Barry Wiggins.
www.fremontcentretheatre.com
For more information, click here.