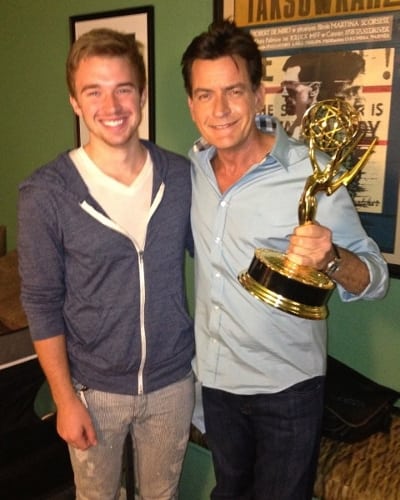 Charlie Sheen ("Anger Management," "Two and a Half Men") is proud of Chandler Massey (Will Horton, "Days of our Lives") for winning his second Daytime Entertainment Emmy Award for Outstanding Younger Actor in a Drama Series and he wants the world to know it. In a Twitter posting last week, a few days after Massey won his second Emmy Award, Sheen posted a picture of himself holding Massey's Emmy with the caption "Having taught ths kid everything he knows, I'm proud but not surprised. We call it SHID–Show 'em How It's Done."
On Wednesday, May 1, the day the nominations were announced, Sheen posted, "congrats EMMY nom'd @chandlermassey winner last year. RE-PEAT great job @jeffballardpr. here's a gift to celebrate." To see the gift, click here.
Massey took part in this past weekends Gay Pride Parade in Columbus, Ohio, where he was driven in a white car highlighting his two Emmy wins. The actor also took part in an interview with local affiliate NBC4. In both appearances, the actor revealed a new buzz cut.