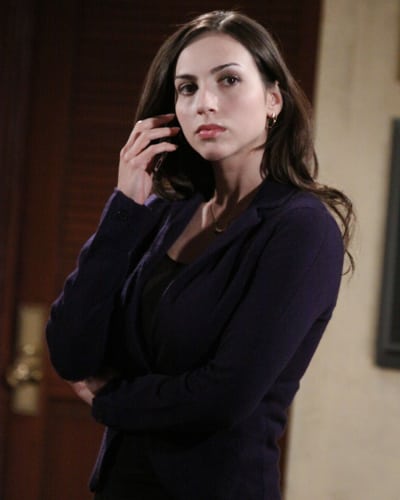 During all the commotion surrounding the 40th Annual Daytime Entertainment Emmy Awards on Sunday, June 16, came word from "All My Children" actress Eden Riegel (Bianca Montgomery; ex-Heather Stevens, "The Young and the Restless") that she is again with child!
The actress tweeted, "I'm thrilled to announce today, on Father's Day, that I'm going to make @MillerLoLife, the greatest dad I know, a father all over again!"
Riegel's onscreen sister, Alicia Minshew (Kendall Hart), and onscreen daughter, Denyse Tontz (Miranda Montgomery), provided well wishes to the actress and her husband, Andrew Miller. In a tweet, Minshew said, "yaaaaaaayyyy! Congrats my friends! So happy for you both! A new Miller to squeeze!!" Tontz said, "AHHHHHH OMG!!!! Congratulations to you both!!!!" Former "Y&R" co-star Greg Rikaart (Kevin Fisher) tweeted, "OMG! OMG! #sexsometimesequalsbabies."
Riegel and Miller were married in September 2007 and have a son, Jack Oscar Miller, who was born May 21, 2011.