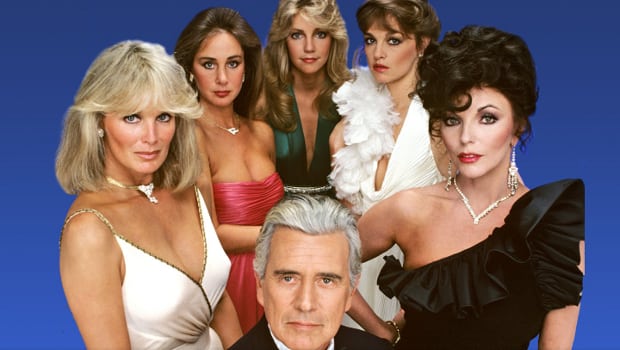 Soap opera fans have seen the revival of "Dallas," "All My Children," and "One Life to Live, and now the former primetime soap "Dynasty" is getting a second chance at life too — albeit in a very different way! With the recent surge of 80s-style clothing and accessories hitting the market, CBS has decided to launch a "Dynasty" jewelry collection completely inspired by the classic soap!
Set to launch on JTV on Friday, June 14, the Dynasty Jewelry Collection is influenced by the women's suits, shoulder pads and cocktail dresses of the era. "The '80s are back in a big way," says Jill Johnson, vice president of marketing for JTV. "This collection is reminiscent of that period, but with a modern twist that remains relevant to fashionistas today. If you love glamorous accessories, you'll adore the Dynasty Jewelry Collection."
Udi Behr, the creative director and designer of the jewelry that is inspired by real pieces worn on the sudser, will host the line's launch. "Working on the Dynasty Jewelry Collection is an honor by itself," he says. "It was exciting to design and develop styles in celebration of such an iconic show."
Adds Liz Kalodner, EVP and General Manager of CBS Consumer Products: "Few shows have made the mark on pop culture and fashion that 'Dynasty' has. We are excited about partnering with JTV to bring this dazzling jewelry collection to fans of the Colby and Carrington families everywhere."
Check your local television listing for JTV information, or click here to shop online during and after the launch.