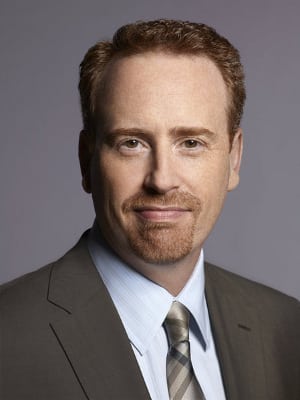 NBC will be releasing a slew of new primetime programming this fall, all of which the network's Chairman, Robert Greenblatt, hopes will be bolstered in February on the heels of the Winter Games in Sochi, Russia. "The overriding strategy this year was to develop enough strong comedies and dramas to take advantage of the promotional heft of the Winter Olympics and devise two schedules for the upcoming season: one for fall and a slightly different one for midseason. I'm pleased to say that our development groups — headed by Jennifer Salke (scripted) and Paul Telegdy (alternative/reality) — really delivered," Greenblatt said. "And aside from our Olympics planning, we also wanted to create better flow and compatibility on each night, and deploy our strongest lead-in ('The Voice') to maximum effect."
"Sunday in the fall remains the night to beat with 'Sunday Night Football,'" he continues. "After football and the Olympics are over, we will launch two classy, attention-getting dramas in February: 'Believe' from J.J. Abrams, and 'Crisis' starring Dermot Mulroney and Gillian Anderson. We think it's time for big dramas again on Sunday nights.  And leading into these dramas at 8 p.m. will be an exciting home renovation competition hosted by Nate Berkus called 'American Dream Builders.'
"Monday and Tuesday will again dominate with 'The Voice.' Our highly anticipated new James Spader drama 'The Blacklist' deserves to go into the 10 p.m. slot on Monday, and we're moving 'Chicago Fire,' a show we really believe in, to 10 p.m. on Tuesdays to benefit from 'The Voice' lead-in that will be at 9 p.m. in the fall.
"After the Olympics, however, 'The Voice' moves back to 8 p.m. on Tuesday so that we can launch two of our strongest new family comedies in the 9 p.m. hour: 'About a Boy' and 'The Family Guide.' Landing more comedy on the schedule is important and using 'The Voice' as a lead-in after the Olympics is the strongest way to do that.
"I believe we'll have a more compatible Wednesday line-up with three dramas: 'Revolution,' 'Law & Order: SVU' and 'Ironside,' starring Blair Underwood, which is another new show we've very high on.
"Thursday will have a family theme, starting with a two-hour comedy block from 8-10 p.m. anchored by strong stars: Amy Poehler in 'Parks and Recreation,' Mike O'Malley in 'Welcome to the Family,' Sean Hayes in 'Sean Saves the World' and the new 'Michael J. Fox Show.' Then at 10 p.m. 'Parenthood' moves in to top off the night with what I know is the best family drama on television.
"On Fridays, anchored by 'Grimm' at 9 p.m., we will have a more fun genre night with the limited-series 'Dracula,' starring Jonathan Rhys Meyers at 10 p.m. In the spring, 'Crossbones' — with John Malkovich as the infamous pirate Blackbeard — replaces 'Dracula,'" said Greenblatt.
Jordan Wertlieb, President of Hearst Television and Chair of the NBC Affiliate Board, says, "This schedule is another example of NBC's continued commitment to restoring prime time to its traditional leadership position. I am sure the investment in partnering with some of the most recognizable names in television will be obvious and exciting to the affiliates."
NBC's fall primetime schedule is as follows (all times Eastern); new shows are in all caps:
NBC FALL 2013-14 SCHEDULE
MONDAY
8-10 p.m. – "The Voice"
10-11 p.m. – "THE BLACKLIST"
TUESDAY
8-9 p.m. – "The Biggest Loser" (New Day and Time)
9-10 p.m. – "The Voice" (New time)
10-11 p.m. – "Chicago Fire" (New Day and Time)
WEDNESDAY
8-9 p.m. – "Revolution" (New Day and Time)
9-10 p.m. – "Law & Order: SVU"
10-11 p.m. – "IRONSIDE"
THURSDAY
8-8:30 p.m. – "Parks and Recreation" (New time)
8:30-9 p.m. – "WELCOME TO THE FAMILY"
9-9:30 p.m. – "SEAN SAVES THE WORLD"
9:30-10 p.m. – "THE MICHAEL J. FOX SHOW"
10-11 p.m. – "Parenthood" (New Day and Time)
FRIDAY
8-9 p.m. – "Dateline NBC"
9-10 p.m. – "Grimm"
10-11 p.m. – "DRACULA"
SATURDAY
Encore programming
SUNDAY
7:00-8:15 p.m. – "Football Night in America"
8:15-11:30 p.m. – "NBC Sunday Night Football"
NBC MIDSEASON 2013-14 SCHEDULE
MONDAY
8-10 p.m. – "The Voice"
10-11 p.m. – "THE BLACKLIST"
TUESDAY
8-9 p.m. – "The Voice"
9-9:30 p.m. – "ABOUT A BOY"
9:30-10 p.m. – "THE FAMILY GUIDE"
10-11 p.m. – "Chicago Fire"
WEDNESDAY
8-9 p.m. – "Revolution"
9-10 p.m. – "Law & Order: SVU"
10-11 p.m. – "IRONSIDE"
THURSDAY
8-8:30 p.m. – "Parks and Recreation"
8:30-9 p.m. – "WELCOME TO THE FAMILY"
9-9:30 p.m. – "SEAN SAVES THE WORLD"
9:30-10 p.m. – "THE MICHAEL J. FOX SHOW"
10-11 p.m. – "Parenthood"
FRIDAY
8-9 p.m. – "Dateline NBC"
9-10 p.m. – "Grimm"
10-11 p.m. – "CROSSBONES"
SATURDAY
8-10 p.m. – Encore and specials programming
10-11 p.m. – "Saturday Night Live" (Encore)
SUNDAY
7-8 p.m. – "Dateline NBC"
8-9 p.m. – "AMERICAN DREAM BUILDERS"
9-10 p.m. – "BELIEVE"
10-11 p.m. – "CRISIS"