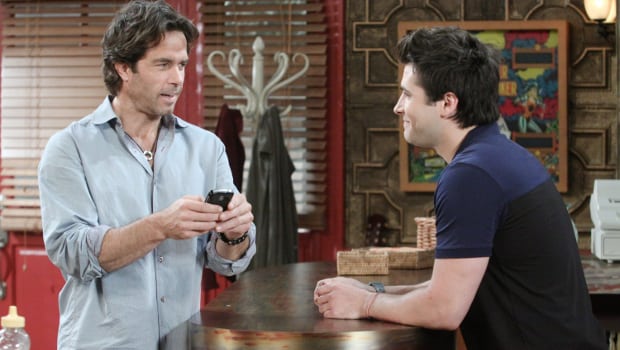 NBC's popular comedy, "The Office," just aired its final episode, but fans of the single-camera mockumentary may have something similar to look forward to: "Days of our Lives" stars Shawn Christian (Daniel Jonas) and Freddie Smith (Sonny Kiriakis) have teamed up with Jack Briggs and Nate Hartley to create "Addicts Anonymous," a possible web-bound comedy that brings the Peacock Network's Dunder Mifflin-based show to mind — with a slight "The Breakfast Club" twist!
The show, which will also star comedy veterans Matt Walsh ("Veep," "Ted," "The Hangover," "Old School") and Jerry Lambert ("Shameless," Family Guy," "Bad Teacher"), along with former "DAYS" beauty, Molly Burnett (ex-Melanie Kiriakis), is about a group of college students — all battling different addictions — working through their problems in one room.
"The show isn't about addictions themselves, but a metaphor for the problems that we all face in our everyday lives," says the show's official Kickstarter page. "Anger, over-indulging and partying are just a few of the things that all of us can relate to in one way or another."
For more about the project, including additional videos from Christian and the team, how you can help support the project and more, check out Kickstarter.com.