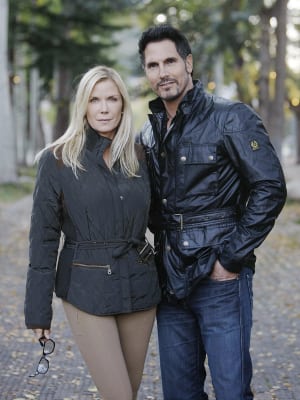 CBS's "The Bold and the Beautiful" has knocked out the competition and come in at an impressive first place at the Monte Carlo Television Festival's International TV Audience Awards in the "Telenovela/Soap Opera" category for the past seven — count 'em, SEVEN — years in a row. But will the beloved sudser be able to grab ahold of the organization's award once more?
Katherine Kelly Lang (Brooke Logan) and Don Diamont (Bill Spencer, Jr.) will be attending this year's celebration as guests of H.S.H. Prince Albert II in the Principality of Monaco, and part of supporting their show as it goes head-to-head with others in the 8th annual TV Audience Awards, which will be held during the 53rd Monte Carlo Television Festival Awards on Thursday, June 13. But will the CBS series be able to maintain its official spot as the world's most watched soap opera?
Keep your fingers crossed for "B&B," and for more information on the exciting event, visit www.tvfestival.com.