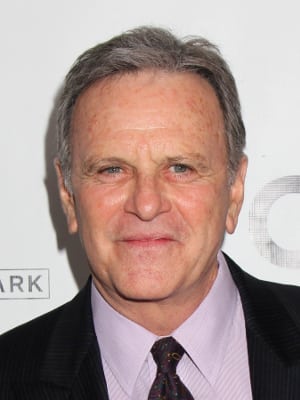 Robert S. Woods has portrayed the contract role of Bo Buchanan on ABC's "One Life to Live" off and on for more than 30 years. Just a few months before the soap went off the air in January 2012, Woods joined several cast members in signing up for the Prospect Park version of the series, which was to pick up right where the ABC run ended mere days earlier. While things didn't materialize the way they were supposed to back then, Woods admits he's having fun now. "So far the scenes we've done are really fun. They're like the scenes we did early on that kind of endeared the characters to people because they like to watch them have fun," says the actor of scenes he's shared with onscreen love interest Hillary B. Smith's and her character Nora Buchanan.
When ABC opted to transfer "All My Children" to Los Angeles in what was said to have been a cost saving decision back in 2010, the network also opted to move "OLTL" to "AMC's" then vacated studio. While "AMC" got the HD treatment as a result of its already equipped new studio, "OLTL" did not go HD despite the network initially proclaiming it would. Instead, the show began shooting in 16:9 Widescreen. Now that the series is shooting in Stamford, CT at the Connecticut Film Center the soap along with "AMC" are both shooting in HD, but in different intervals ("AMC" shoots five weeks, then cast/crew are off for five weeks while "OLTL" is shooting and vice versa).
Says Woods of HD filming, "ABC did it with 'General Hospital,' but they didn't do it with us. That was like one of those signs where you go, 'sell the apartment.' That's history." He adds, "Going forward, yeah it is in High Def. We got a lot of old crew members back, old cameraman, the directors are back, and the sets…other than the pictures on the wall in my office. It's [still] like working in my office. Our living room…the same way, Bo and Nora's garrett. It's a little smaller. It seems like the same place until they start to go out on the patio. I haven't been out there yet, but just noticed there is only one step instead of two to get outside to the patio and the table out there. It still has all the angles and they don't shoot your feet anyway. They don't shoot the stairs, so nobody knows. If nobody says, 'Hey, you used to go up two steps, what's going on?' Nobody would know."
Talking about where Bo and Nora are now, Woods says, "I think I'm trying to convince her into taking on a new career venture. I find out that in college she had a radio station – talk radio. She's solves problems for people. Somebody said when they first read the scenes they thought, 'oh, God,' and then after we did them they were like, 'that's so cool!'" So that's a good sign. That's from people that are a little like your hero at times. They've seen it all, and written it all and done it all. If they're happy and we had fun doing it, we had fun."
While Woods didn't have enough time to talk much about the storyline involving Bo's son Matthew (Robert Gorrie), the actor did share an interesting experience while on set. "One of my grandsons, who I haven't worked with yet, walked up and said, "Are you my grandpa?' and I said, 'I don't know. Who's your mom and dad? What's your name? Who are you playing?' He said, 'Liam!' and I said, 'sounds familiar to me. Tell me your parents name,' then I said, 'ok, Missy [Archer]! I'm his grand-uncle! I told him, I was his grandfather."
A week before the show went on its five week break, Woods jokingly told us of another particular day on set. "I was ready to pull my hair out because it was just a busy day. There was 20 items to do and all of a sudden some of them were cut and I was going crazy. Thank God they weren't re-shooting anything."
"One Life to Live" premieres with brand new episodes on Monday, April 29 on Hulu, Hulu Plus and iTunes. For Canadian viewers, FX Canada will air the soap at 12:30 PM ET/2:30 PM PT.