INTERVIEW: 'Desperate Housewives' Actress Drea de Matteo to Star In Lifetime's 'Stalkers'
A&E Television Networks, LLC.
Drea de Matteo may be best known for her roles as "Sons of Anarchy's" Wendy Teller and "The Soprano's" Adriana La Cerva, but soap opera fans probably recognize her as "Desperate Housewives'" tough-as-nails neighbor, Angie Bolen. And now, the Queens-born actress is set to play in yet another drama-filled adventure: Lifetime's upcoming film, "Stalkers."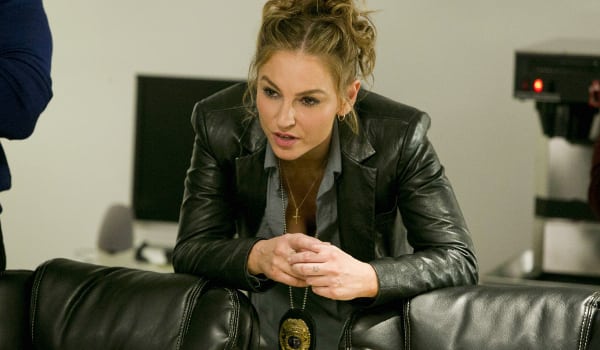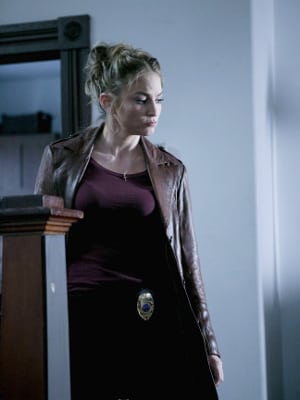 "I've never played a cop, and I've always wanted to," the actress says about why she was attracted to the film, which follows de Matteo as Diane Harkin, a woman with a troubled past who teams up with a politically savvy Assistant District Attorney, Julia Winston (played by Jodi Lyn O'Keefe, [ex-Maggie Cory, "Another World"]), to take down a dangerous stalker. "I'm always sort of on the victim's side, and though I love playing the victim, [because] it's always pretty juicy, I get to be a victim and a tough guy in this part. I also wanted to do something with more women, because I'm always doing so many male-strong shows and stuff. Even though I did 'Desperate Housewives,' it wasn't enough for me."
In addition to O'Keefe, de Matteo had the opportunity to work alongside Mena Suvari, who plays a woman with an especially harrowing history of being stalked. "She is great, and it was fun to see her sort of playing such a psycho lady," says the actress. "Mena is awesome. She's an amazing actress, and it was great to work with her."
In terms of what you can expect from de Matteo herself, the actress says Diane is one of the toughest characters she's had the opportunity to play yet. "She's not very refined, very street smart, very tough. A hot head. A bad temper. Very protective of her own. And pretty courageous, but at the same time has a dark past," she reveals. "All the characters that I've played have been pretty strong, but a lot of them have been major victims, and I guess that has risen out of the ashes of the circumstances… This character has a past as well and is breakable, but she is on a mission to conquer her fears, because she can't afford to be afraid. She's protecting other people and she's protecting her son and she's protecting herself."
Watch for the premiere of "Stalkers" on Saturday, April 13, at 8:00 pm ET/PT on Lifetime.