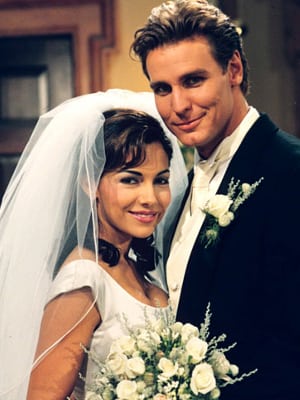 When Ingo Rademacher (Jasper "Jax" Jacks) was announced as a celebrity dancer on "Dancing with the Stars" for the competition series' 16th season, many avid "General Hospital" fans wisely guessed the actor's dancing chops would be tested as part of a cross-promotional opportunity between ABC's primetime juggernaut and the networks daytime soap staple.
Entertainment Weekly is exclusively reporting that Rademacher and Vanessa Marcil (Brenda Barrett) are returning to "GH" for more than a few weeks as the daytime drama series prepares to celebrate it 50th anniversary on Monday, April 1. Although a first airdate is not known at this time, Weekly  says the duo are expected to hit the air before the soaps anniversary episode airs.
In an interview posted today with Soap Opera Digest, Marcil says, "I like Frank [Valentini, executive producer] a lot and I think he is amazing. I'm up for doing anything, because as an actor, it's always exciting. I'm so honored that they've let me come in and come out; I just really respect what they think is best for the show. So if Brenda fits into that somewhere, of course, I'm always really excited about that."
In Related News…
Richard Simmons is scheduled to appear on the soap for the Nurses Ball. The actor posted a picture of himself in ball gear on Friday, March 1 with the message, "I'm sending you a big smile. I have a secret and you'll know soon." Actor/model Jonathan Grant tweeted, "Just me and @TheWeightSaint working it on the set of @GeneralHospital with @valentinifrank. Gearing up for the Nurses Ball 2013!!" Simmons responded to Grant's tweet and said, "@yourcoverboy @GeneralHospital @valentinifrank thank you for being sooooooooooooo kind to me…………….u touched my heart."
Look for Simmons to first air on Wednesday, March 27.