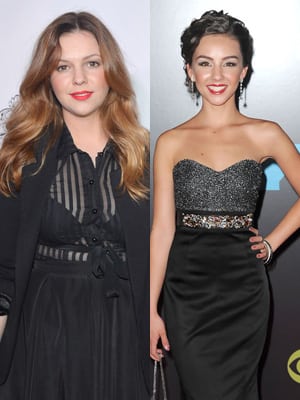 "General Hospital's" Amber Tamblyn (ex-Emily Quartermaine) and Lexi Ainsworth (ex-Kristina Corinthos) won the hearts of soap fans during their time in Port Charles, and now the two actresses are set to win over more as characters in new pilots!
Tamblyn, who left her "GH" role back in 2001 and recently wrapped up a season-long arc on "House," has reportedly signed on as a female lead in CBS' drama pilot, "Anatomy of Violence," which also stars Skeet Ulrich ("Scream"). Written and executive produced by "Homeland's" Howard Gordon, Alex Gansa and Alex Cary, the drama follows an FBI criminal psychiatrist (Ulrich) who partners with an FBI agent (Tamblyn) with whom he shares a troubled past.
Conversely, Ainsworth, who left her "GH" role in 2011, has reportedly snagged a role as a little sister on ABC's Romeo and Juliet inspired pilot, "Westside." Following two families from Venice, California, the pilot also stars Jennifer Beals ("The L Word," "Flashdance") and "The Young and the Restless'" Michael Graziadei (ex-Daniel Romalotti).