On Thursday, January 24, former "All My Children" star Christina Bennett Lind (ex-Bianca Montgomery) began appearing in the role of Susy Hendrix, a blind woman who finds herself opening doors to a psychopathic game of deceit and murder, in the John W. Engeman Theater Production of "Wait Until Dark."

The story begins with Susy's husband, Sam (portrayed by Steven Alan O'Brien), who's persuaded by a strange woman to transport a doll across the Canadian border not knowing he is smuggling illicit drugs into the United States at the same time. Shortly afterward, Susy becomes the target of three-con men, headed by Roat (portrayed by actor Michael Sharon), who are on the hunt for the drugs and will go about any means necessary to get what they want. Even if that includes murder!
The 1967 film version of the Broadway play starred actress Audrey Hepburn in the role of Susy.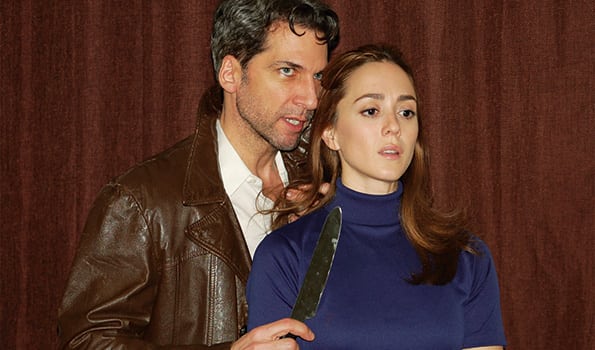 Produced by Richard T. Dolce, the theaters producing artistic director, the play also stars G.R. Johnson (as Mike Talman), Eric Rolland (as Sergeant Carlino), Carly Tamer (as Gloria). Natalie Seus is the understudy for the role of  Gloria.
The play is scheduled to run through March 10 at a cost of $55. Tickets may be purchased by calling (631) 261-2900, by visiting http://www.engemantheater.com, or at the Engeman Theater Box Office at 250 Main Street, Northport, NY 11768. Visa, MasterCard, Discover and American Express credit cards are accepted.
Note: If you plan on attending a showing, be aware that some of the play includes complete darkness and certain moments may be too frightening for young children.