Former 'General Hospital' and 'Passions' Stars Headline Lifetime's 'Holiday'
A&E Television Networks, LLC.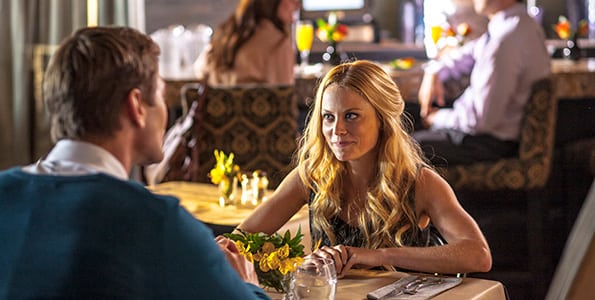 In yet another holiday film from Lifetime starring former soap stars, actors Claire Coffee (ex-Nadine Crowell, "General Hospital") and Ryan McPartlin (ex-Hank Bennett, "Passions") are headlining "Holly's Holiday." In the film, Coffee portrays Holly Maddux, a New York advertising executive who can't help notice the window display she passes by on her way to work every day, the one with the perfect, hunky mannequin. When Holly slips one day on the ice in front of the store and hits her head, she wakes up to find a perfect gentleman by her side, helping her up. That gentleman is portrayed by McPartlin in the role of Bo. As Holly and Bo hit it off almost perfectly, Holly soon realizes that the pressure to be perfect all the time is not all that it's cracked up to be as she has to make a choice between the perfect life she's always dreamed of… and the real love that's been waiting for her all along. The fim also stars Jeff Ward ("Body of Proof") in the role of Milo Ames.
"Holly's Holiday" premieres Saturday, December 8 at 8:00 PM ET/PT on Lifetime.