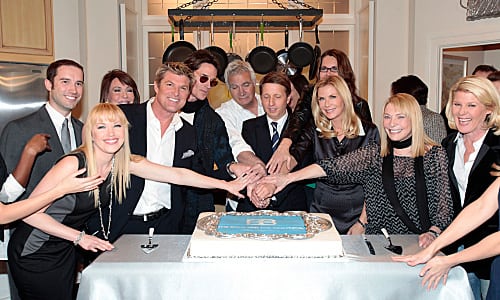 via Press Release
FOR THE FIRST TIME, THE INITIAL 25 EPISODES OF "THE BOLD AND THE BEAUTIFUL" NOW AVAILABLE ON CBS.COM

Original Episodes from 1987 Introduced the World to the Forrester Family and Their Fashion Dynasty

For the first time, the initial 25 episodes of the multi-Emmy® Award-winning THE BOLD AND THE BEAUTIFUL are now available for a limited time at http://www.cbs.com/shows/the_bold_and_the_beautiful/.

Viewers can go back in time and re-live the iconic episodes from the show's debut in 1987 that introduced the world to the powerful Forrester family, including Eric, Stephanie, Ridge, Thorne and Kristen, and the fashion dynasty they rule, Forrester Creations, as well as the working-class Logan family, Brooke, Katie, Donna, Beth and Storm.

The first 25 episodes also feature the wedding of Ridge to Caroline Spencer in what was dubbed at the time as the "wedding of the year in the fashion world"; the revelation of Eric's long history with the Logan family; teenage Katie as an ugly duckling and her resentment of her popular sister, Donna; the bitter rivalry of the Spencer family versus the Forrester family; Brooke's first love and painful heartbreak; and much more.

"Big hair, shoulder pads and broad stripes aside, the first 25 episodes of THE BOLD AND THE BEAUTIFUL were great drama," said Bradley P. Bell, Executive Producer and Head Writer of the show. "We're happy to partner with CBS Interactive to show everyone how it all began."

For more than two decades, THE BOLD AND THE BEAUTIFUL has explored the entangled lives, passionate loves, high-stakes battles, loyalties, tragedies and the inspiring triumphs of the Forrester, Logan, and Spencer families.  With romance, sensuality, complex characters and intricate and compelling storylines, B&B is, at its core, a gripping tale of high fashion glamour, honor and, most importantly, family.

In 2011, THE BOLD AND THE BEAUTIFUL received its third consecutive Emmy® Award for "Outstanding Daytime Drama Series," and was named the Most Popular Daytime Soap Currently on TV by Guinness World Records®. In 2012, THE BOLD AND THE BEAUTIFUL received its seventh consecutive Golden Nymph Award at the International TV Audience Awards in the "Telenovela/Soap Opera" category at the 52nd Monte Carlo Television Festival.  B&B is the most watched daytime drama series in the world, seen daily by more than 35 million people in more than 100 countries.

THE BOLD AND THE BEAUTIFUL, which celebrated its 25th anniversary on March 23, 2012, is a Bell-Phillip Television production, broadcast weekdays (1:30-2:00 PM, ET; 12:30-1:00 PM, PT) on the CBS Television Network. Bradley P. Bell is the Executive Producer and Head Writer. THE BOLD AND THE BEAUTIFUL is the first and only daytime drama to simulcast in Spanish utilizing SAP (Secondary Audio Program) technology.