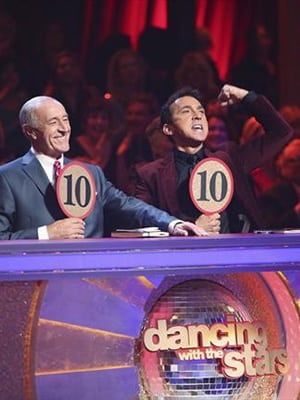 It's the semi-finals as ABC's "Dancing with the Stars" pays tribute to Michael Jackson and the 25th Anniversary of his "Bad" album. The "Dancing" tribute airs days before the network presents "Michael Jackson: BAD 25," a documentary special directed by Spike Lee.
via Press Release
IT'S THE SEMI-FINALS WITH A TRIBUTE TO THE 25th ANNIVERSARY OF 

MICHAEL JACKSON'S LEGENDARY "BAD" ALBUM, ON THIS WEEK'S 

"DANCING WITH THE STARS: ALL-STARS" ON ABC

The Wanted Perform on Tuesday's "Dancing with the Stars: All-Stars the Results Show" 

Legendary Choreographer Paula Abdul Returns for Final "Macy's Stars of Dance" 

Final "AT&T Spotlight Performance" Featuring Talented Choreographer Parris Goebel

Michael Jackson Tribute Leads up to the "Michael Jackson: BAD 25" Special 

Airing Thursday, November 22 on ABC 

"Episode 1509 & 1509A" – We'll kick off the semi-finals of "Dancing with the Stars: All-Stars," MONDAY, NOVEMBER 19 (8:00-10:01 p.m., ET) with a stunning pro performance to a medley of two iconic songs from "BAD25," the album released to celebrate the 25th anniversary of Michael Jackson's legendary "Bad" album. Each of the remaining five couples will dance to a classic song from the album. The show will also feature three special dance performances, each sampling a song from the 13-track bonus disc from "BAD25." To continue the celebration ABC will air "Michael Jackson: BAD25," a documentary directed by Spike Lee, offering Michael Jackson fans across the country a rare look at the man who changed the music world forever (November 22 at 9:30 p.m., ET). Also on Monday night, each couple will dance a dance style they have not yet danced to a theme which was chosen for them by another couple on last week's Results Show.

On "Dancing with the Stars: All-Stars — The Results Show," TUESDAY, NOVEMBER 20 (8:00-9:01 p.m., ET), the UK's new boyband sensation, The Wanted, will perform a medley of their current single "I Found You" and their biggest hit, "Glad You Came." Legendary performer and world famous choreographer Paula Abdul returns to the ballroom to perform in our final "Macy's Stars of Dance" with a groundbreaking number. This piece will be an amazing interactive performance featuring some outside dancers as well as our own pros, Mark Ballas, Chelsie Hightower, Sonny Fredie Pederson, Henry Byalikov, Sharna Burgess and Emma Slater. In our final "AT&T Spotlight Performance," we will feature 21-year old Parris Goebel. Parris grew up in New Zealand and always knew she loved to dance, even though she was a self-described "terrible dancer." Instead of taking classes, she taught herself how to dance, developing a new unique hip-hop style called "polyswagg," and went on to become one of the hottest choreographers in the dance world. She has choreographed for Jennifer Lopez and Missy Elliot, and is currently choreographing numbers for the new Michael Jackson Cirque De Soleil show in Las Vegas. She will hit the "DWTS" ballroom on Tuesday night with her dance crew from New Zealand, The ReQuest Crew, for an unforgettable performance. Also, "DWTS" professional dancer Derek Hough will perform a number that he has created that will feature four talented female dancers — Allison Holker, Melanie Moore, Jessica Lee Keller and Katherine McCormick. And before the night's end, two more couples will be eliminated.

Hosted by Emmy Award winner Tom Bergeron ("America's Funniest Home Videos") and Brooke Burke-Charvet ("Dancing with the Stars" Season Seven Champion), the celebrities perform choreographed dance routines which will be judged by renowned Ballroom judge Len Goodman and dancer/choreographers Bruno Tonioli and Carrie Ann Inaba.

Viewers may cast their votes for their favorite teams via phone on Monday night during and up to 60 minutes after the "Dancing with the Stars: All-Stars" performance shows. AT&T customers may also vote by texting the word "VOTE" and entering the number that corresponds to the team they want to support (message and data rates may apply). Online voting at  HYPERLINK "http://www.ABC.com" www.ABC.com is open from the start of each episode on the East Coast and closes at 8:00 a.m., PT/11:00 a.m., ET on Tuesday mornings. Additionally, fans can now vote on Facebook  HYPERLINK "http://www.facebook.com/dancingwiththestars" www.facebook.com/dancingwiththestars. A custom Facebook app sponsored by AT&T will let fans vote, share who they voted for and why, as well as see who friends voted for. They can also access the "After Party: Dancing with the Stars" live stream, the DWTS Social Buzz page, and the AT&T Spotlight Performance and Casting Call from the app.

About BBC Worldwide Productions

BBC Worldwide Productions is one of five core businesses under BBC Worldwide America, the U.S. division of the main commercial arm and wholly-owned subsidiary of the British Broadcasting Corporation (BBC), BBC Worldwide. Led by Jane Tranter, BBC Worldwide Productions is based in Los Angeles and develops and produces scripted and non-scripted projects for U.S. cable and broadcast networks, as well as digital platforms. The production company is responsible for the smash hit "Dancing with the Stars" (ABC), as well as "Breaking Pointe" (CW), "Top Gear" (HISTORY), "Richard Hammond's Crash Course" (BBC AMERICA), "What Not to Wear" (TLC), "Torchwood: Miracle Day" (Starz) and the upcoming titles "Da Vinci's Demons" (Starz), "The Week the Women Went" (Lifetime) and "Lovetown, USA" (OWN), among others.