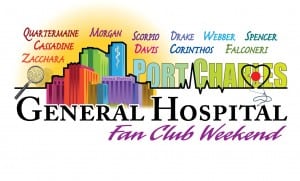 On Saturday, July 23, 2011, "General Hospital" held its annual fan club weekend event at the Sportmen's Lodge Event Center. Incidentally, in the year that followed many were left wondering if the 2012 event would ever come to be amidst all the drama and rumors surrounding the cancellation, reincarnation (through the Disney/ABC Television Group/Prospect Park Productions deal that wasn't) and ultimate demise of "All My Children" and "One Life to Live" and the possible effect it would have on "GH" itself. On July 21, 2012, "GH" did indeed holds its annual fan event – again at the Sportsmen's Lodge Event Center – with a renewed focus and much hope for the future.
"General Hospital" cast members Steve Burton (Jason Morgan), Rebecca Herbst (Elizabeth Webber), Kelly Sullivan (Kate Howard/Connie Falconeri), Scott Reeves (Steve Webber), Lisa LoCicero (Olivia Falconeri), Jason Thompson (Patrick Drake), Dominic Zamprogna (Dominic Falconeri), Chad Duell (Michael Corinthos), Jen Lilley (soon-to-be ex-Maxie Jones), Drew Cheetwood (Milo Giambetti), Rebekah Montoya (Delores Padilla), Brandon Barash (Johnny Zacchara), Bradford Anderson (Damien Spinelli), Sean Blakemore (Shawn Butler), Laura Wright (Carly Jacks), Julie Marie Berman (Lulu Spencer-Falconeri), Haley Pulos (Molly Lansing), Erik Valedez (Trey Mitchell), Robin Mattson (Heather Webber), Nathin Butler (Ewen Keenan), Lindsey Morgan (Kristina Corinthos) and Richard Steinmetz (Joe Skully Jr.), were joined by "One Life to Live" turned "GH" stars Kristen Alderson (Starr Manning) and Michael Easton (John McBain), along with the soaps new executive producer Frank Valentini, on the stage as they greeted some of the soaps biggest fans.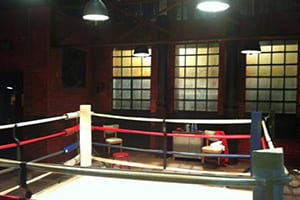 For more than half an hour they all took fan questions, while Erik Valdez created a running joke within their answers alluding to shirts coming off. Of course, it couldn't be helped as Valentini revealed a new boxing set had been built similar to the steam room set seen frequently on "OLTL." Maurice Benard (Sonny Corinthos) arrived late and was only on hand for the fan autograph signing sessions that took place immediately afterward.
Before Bradford Anderson took the reigns from "GH" Fan Club President Debbie Morris, Valentini was asked if he wanted to say a few words to the audience gathered. While he kept his responses short and sweet, he did reveal that he had arrived late to the party due to an important commitment. "I was at the Director's Guild meeting this morning with some of the directors from daytime," he said referring to the Director's Guild of America (DGA), which is the union that represents directors in movie and television productions – despite being an executive producer, Valentini frequently directs episodes of his soap operas. "This is my first fan club event. I'm really excited about the show and I'm excited about this cast and I think it' a great day for celebration, so don't let me get in the middle. Let me share it with you," Valentini concluded.
Despite receiving pre-prepared questions, Anderson decided to take the unusual approach of giving the fans the chance to ask their own. He walked around the room and had each person he chose say their name and ask their question of a "GH" cast member. The first question asked was how much time the cast have off each year. While the question was directed at the entire cast it was agreed, in particular by Burton and Zamprogna, that Bradford should be the one to answer it for them. "As you guys know, we have a new episode practically everyday. So that means we have to make a new episode practically everyday, and what we're doing now is we're trying to do more in less time so that we can save money to keep our fare show on the air for all of you," the actor answered.
Thanks to the presence of Valentini some of the questions directed at the cast ended up being directed at him instead – in part due to Burton's insistence on Valentini answering one particular question that referenced the timeslot change for the soap. The exact question was "Do you think the change in the timeslot for 'GH' is gonna screw up the ratings?" Burton, deciding it wasn't something he could answer, immediately jumped up and over the legs of his co-stars to hand the microphone over to his boss who was all the way across the other side of the stage. As fans and cast members laughed over Burton's gesture, Anderson joked "Aren't you glad you showed up Frank?" Always the trooper, Valentini said "I think there is always risks in having a timeslot change, but I believe that our audience is loyal enough, but more importantly smart enough, to say 'okay, now we have to watch GH at 2 so we'll take our naps at 2, we'll take our lunch at 2, we'll take our breaks at 2.' Here on the west coast it's at 1 o'clock and I think that'll be better. I actually think on the west coast it'll be better for us than on the east coast, where it'll be more of a challenge."
While not giving anything away, Valentini did reveal that "we have a really great story that's gearing up for the fall and we're going to get a lot of promotion from the the network," which according to the producer includes the recent blurbs popping up that reminds viewers of the change just before the end of each episode of the soap.
Q&A Highlights
"I would love to play Johnny [Brandon Barash] because I love how he mixes his bad boy with his charm and sexiness and then he gets to flirt with all the girls in the cast," said Rebekah Montoya, who was asked which character she would love to play other than her own. Bradford Anderson responded with a joke that it could also be that Barash has "phenomenal chest hair."
Although he was hosting the Q&A, Bradford Anderson couldn't hide from another question from a fan. This time the actor was asked which version of Spinelli does he prefer portraying on the soap, "Do I like geek Spinelli or like just ridiculously weird Spinelli? The Jackal P.I. storyline was fun just because it was a challenge for me and I got to wear clothes that fit, so that was cool. It's fun to go off in a different direction, but it's always nice to come back home to my geeky self."
New to the cast, Erik Valedez was asked about playing a such a sleaze! "It's a lot of fun to play a sleaze because I'm really not that guy in real life, I promise you," the actor joked. "It really is a lot of fun to come in and play such a jerk. With that said, stay tuned! There's going to be a lot more revealed about this jerk/sleaze bag Trey and I think I take my shirt off a time or two, so maybe you guy's should keep watching." Thanks to Valdez, more shirtless responses would soon follow.
Kristen Alderson was asked about leaving the east coast and no longer working with her brother (Eddie Alderson, who portrayed Matthew Buchanan on "OLTL"). "Well, I still live with my brother so I see him every day," Alderson said in a joking manner. "I grew up on 'One Life to Live,' and that was an amazing experience. It was definitely a big move in my life but L.A. couldn't be any better than it already is. I love the weather, and I love this cast and crew. They've been so welcoming to me."
Next up was Robin Mattson, who was asked how much fun she was having with playing crazy Heather Webber. "It's pretty fun!" Mattson said enthusiastically. "Well let's see, I get to work with Roger Howarth and Tony Geary. That's especially fun, in addition to having a wonderful son [Mattson said referring to Scott Reeves as Steven Lars] and his lovely girlfriend, who have been so gracious and generous with themselves in real-life to me, so I made some new friends and it's been great to join some old friends and enjoy good times again."
Fans may have noticed an absent Sean Blakemore on the "GH" canvas, but it's not because they don't want to use him – he's just an in demand actor! Blakemore was asked about his disappearance from the soap and let Valentini, like Burton before him, answer the question. "Just so you know, even before I started on the show, I got a call from Sean's agent asking to let Sean go and do a movie. I said, 'you know what, you got to let people do things and spread their wings' and it wasn't for a long period of time, but he went and shot a movie. He went and had a great time. As you know it takes time to build things and right now we're in the process of building something that I think you'll really like," said Valentini to the pleased audience. "What Frank said is absolutely true. You guy's are going to be very pleased. There's a lot of fun stuff coming up…interesting and I think I may have a shirt off? You guys will be excited. There's a lot of funs tuff coming up in the fall," said Blakemore adding to Valentini's statement. "Sounds like everyone's having a shirtless scene…I'm not! I subscribe the the Steve Burton method. I won't take my shirt off," Anderson jokingly said afterward.
I was sitting in the dressing room and I was thinking 'I can't do this,' and then the news broke that I booked it [the role of Maxie] so I was like 'god I got to go upstairs and do this, I can't give it away!' and everyone was so kind and so welcoming and no one ever made me feel awkward in an awkward circumstance," said Jen Lilley when asked about what was going through her head as she was about to take on the role of Maxie Jones from Kirsten Storms, who had gone on medical leave at the time.
A fan of Jason and Sam wanted some intel on where the cards land in the couple's future, but Steve Burton stated "We have been advised by Frank Valentini not to answer those questions, so if you want to tweet him please feel free. He does respond every now and then. He's very interactive socially on the networks also."
The ultimate question fans have been asking about since 2001, when it was last seen, was whether or not the show plans on bringing back the uber popular Nurse's Ball event. The question was of course directed at Frank Valentini. "I'll just say this, I love music and I love Nurses."
On a posting on the Official "General Hospital" fan club web site, Debbie Morris revealed that "Yes, we are already working on plans for a fabulous 50th Anniversary Fan Club Weekend, like no other….so stay tuned!" If you were unable to attend this year's festivities, make sure to keep one weekend in July 2013 (TBD) on your radar so you can go next time.