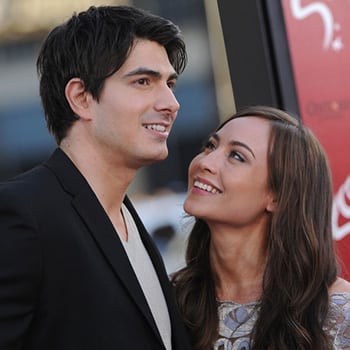 Former "One Life to Live" star Brandon Routh (ex-Seth Anderson) and wife Courtney Ford ("True Blood") have welcomed their first child, reports People Magazine on their website. Leo James Routh, born Friday, August 10, weighed in at 8lbs. and measured 20 1/2 inches.
"We're in awe … we can't take our eyes off him!" the two said in a joint statement to People with Routh adding his wife is a "rockstar."
The couple will celebrate their five-year wedding anniversary in November.
Since leaving "OLTL" in 2002, Routh became a household name in 2006 when he starred as Clark Kent in "Superman Returns." Although he is not returning as the man in the blue tights when Warner Bros. Pictures releases  "Man of Steel" on June 14, 2013, Routh can next be seen in the new CBS primetime comedy series "Partners." Based on the lives of creators David Kohan and Max Mutchnick as two life-long friends and business partners whose "bromance" is put to the test when one of them becomes engaged, "Partners" stars Michael Urie ("Ugly Betty") as Louis and David Krumholtz ("Num3ers") as Joe. Louis is "spontaneous, emotional and prone to exaggeration," while Joe is an "accomplished architect who leads with his head and not his heart, especially in his love life." Routh portrays Wyatt, a vegan nurse and Louis' partner in life. "One Tree Hill's" Sophia Bush stars as Ali, Joe's new fiancé and a "sophisticated jewelry designer."
"Partners" premieres Monday, September 24 at 8:30 PM ET/PT on the CBS Television Network.