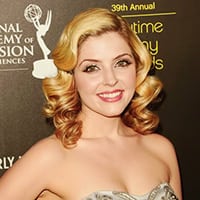 Actress Jen Lilley, who was given the ultimate acting challenge when she replaced Kirsten Storms in the role of Maxie Jones on ABC's "General Hospital" in September 2011 now finds herself relinquishing the role back to Storms as the show prepares a time slot change in the coming weeks.
Last month Soap Opera Digest teased that Storms was "in talks to return the show," and an emotional Lilley took to YouTube on Saturday, July 21, to confirm those reports (see video below).
Although a last airdate for Lilley has not been set nor has an ABC representative officially confirmed Lilley's ouster and Storms' return, sources tell Soap Opera Network that Storms is tentatively scheduled to return to the set beginning this week. A first airdate is expected for mid-to-late August, which is just in time for "General Hospital's" move to 2:00 PM ET/1:00 PM PT on ABC.