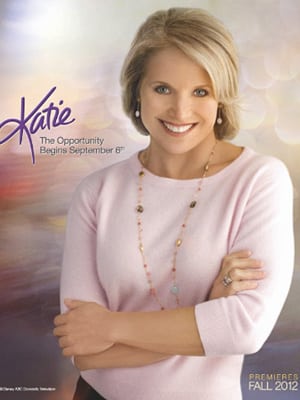 (SoapOperaNetwork.com) — On June 6, 2011, ABC finally announced (after months of rumors) that it had signed a deal with former "CBS Evening News" anchor Katie Couric to host a new daily syndicated talk show, and that said show would replace veteran soap opera "General Hospital" in the 3:00 PM ET/2:00 PM PT/CT timeslot. Initially the decision brought fear to soap opera fans, who only two months prior learned that ABC Daytime's two other veteran soaps ("All My Children" and "One Life to Live") would be replaced by two new food and lifestyle centered talk shows ("The Chew" and "The Revolution"). Now nearly a year since the announcement it looks like Katie Couric may just be the lifesaver "General Hospital" desperately needs.
According to TV Guide's Michael Logan, sources have informed him that the talk show host and her executive producer (former NBC Universal CEO Jeff Zucker) have expressed their concern to the Disney/ABC Television Group brass, producers of her new talk show, in regards to the poor ratings performance that has been "The Revolution" – Since the talk shows debut in January the program hovers at just over 1.5 million viewers on average. By comparison, "One Life to Live," which "Revolution" replaced, averaged more than 2.3 million viewers on average and performed better in key sales demos during the same period of time on the year-ago. "Couric and Zucker want to see 'GH' get that slot because it's a stronger show, Nielsen-wise, plus Couric does not want to face the wrath of 'GH' fans and risk the chance they'll organize a boycott. Who the hell needs that? So she and Zucker want 'The Revolution' to go bye-bye," the website stated.
With "General Hospital's" recent uptick in key demos and total viewers since the new dynamic duo of Frank Valentini and Ron Carlivati (executive producer and head writer) debuted just a few short weeks ago, for the first time in over a year the soap finally has a fighting chance, but will ABC listen? "They may not have a choice," said Logan. "In fact, they might even agree at this point. Our spies at Times Square Studios — the new tag for ABC Daytime — tell us the commitment to nonscripted shows remains firm in the ABC daypart but no one is doing handstands over the ones currently in development, which include a doctor show and a game show. While ABC technically has time (though not much) to replace 'The Revolution' with more reality, that option is looking way too chancy."
Should ABC end up keeping "GH" on the air and canceling "The Revolution," the soap will move to the 2:00 PM ET/1:00 PM CT/PT timeslot beginning in September. According to sources, a decision on the eventual outcome on either series will not be made until at least mid-April.
What Do You Think? Sound Off! below.