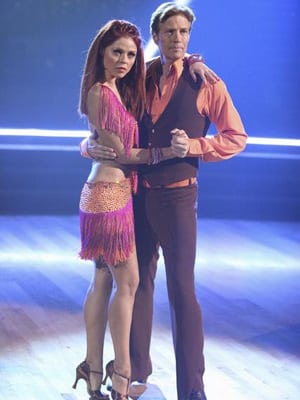 (SoapOperaNetwork.com) — Jack Wagner, 52, is a soap opera legend and singer, but for millions of viewers he's a dancing star courtesy of ABC's "Dancing with the Stars." The actor joined the 14th cycle (season) of the reality-competition series along with such celebrities as Melissa Gilbert (actor, "Little House on the Prairie"), Sherri Shepherd (talk show host and actress, "The View"), Jaleel White (actor, "Family Matters"), Gladys Knight (singer), Donald Driver (NFL star, "Green Bay Packers"), William Levy (latin soap star), Katherine Jenkins (opera star), Gavin DeGraw (singer), Martina Navratilova (tennis star), Roshon Fegan (actor, "Shake It Up!) and Maria Menounos (TV host and correspondent), but what fans truly want to know is if Wagner is heading back to ABC's "General Hospital" after being taken off contract by CBS' "The Bold and the Beautiful" in early February.
In promotion of "Dancing's" current season each celebrity is taking part in "You Tweeted, They Answered," a taped segment in which they answer questions provided to them by "Dancing with the Stars'" Twitter followers (@DancingABC). Of the three questions Wagner answered none was as attention grabbing for soap fans, in particular those watching "General Hospital" (in which Wagner portrayed Frisco Jones off and on from 1983 to 1995), as the one pertaining to his possible return to the soap that put him on the map. When asked if he "would you ever consider coming back to "General Hospital," Wagner stated "Frisco's never dead, man! He's right here! Yeah!" While that isn't an outright yes, or much of an answer in itself, it does help that "Dancing" is on the same network as "GH" and with Kristina Wagner (Felicia Jones) reportedly returning to the soap in late April the possibilities are endless. If you want to ask Wagner your own question, he's always available online @JackWagnerHPK.
In addition to his Emmy nominated stint on "General Hospital," Wagner portrayed the Emmy nominated role of Dominick "Nick" Marone on CBS' "The Bold and the Beautiful" and was the much beloved and hated Dr. Peter Burns on the FOX primetime soap "Melrose Place." Other soap stints include appearances in NBC's short-lived primetime soap "Titans" and daytime soap "Sunset Beach."
Fans can vote for Wagner each week via telephone or text message until an hour after the Monday performance broadcast of "Dancing with the Stars" based on their local time zones. To vote by text message, text the word "VOTE" using the information below:
Telephone #
Text-in Code
800-868-3402


800-VOTE4-02

3402
*Message and data rates may apply.
Online voting, however, is open from the beginning of the Monday performance show until 11:00 AM ET/8:00 AM PT the next day (morning of the Tuesday results show). To vote online, you must create a username and provide a valid email address at ABC.com. You can also connect your Facebook or Twitter account to your ABC.com account and login to vote (find out how).
Watch Wagner dancing the Jive with his professional partner Anna Trebunskaya