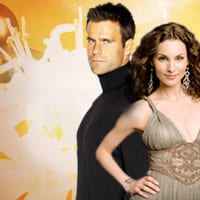 (SoapOperaNetwork.com) — After a successful three-city tour on the east coast, "A Tribute to Pine Valley," produced and presented by Celebrity Events Group, Soap Opera Digestand Visit Myrtle Beach: South Carolina, is taking the show to the midwest. Beginning today, January 13, the tribute will hit three venues in Wisconsin and Illinois. The tour boasts a cast of some of "All My Children's" most popular and sustaining actors for a question and answer session as well as an autograph and photo session where you can meet your favorite stars up-close and personal.
The tour as originated was slated to star Walt Willey (ex-Jackson), Michael E. Knight (Tad), Cameron Mathison (ex-Ryan), Vincent Irizarry (ex-David), Jacob Young (ex-JR) and Julia Barr (ex-Brooke). After an injury sidelined Barr from attending the event on the east coast, Darnell Williams (ex-Jesse) stepped in and took her place. Williams, Willey, Mathison, Irizarry and Young will remain with the tour as it hits the midwest and have added some feminine energy to the mix this time around. Look for the beautiful Alicia Minshew (ex-Kendall) to attend this weekends events. The opportunity to say thank you and goodbye to the loyal fans for potentially the last time appealed to the actress who notes to Soaps In Depth, "when am I going to have [another] chance to do stuff with [AMC] fans?" Taking note of the attractive slate of former co-stars attending, the actress added "when I saw who was doing it, I thought, 'My boys! My boys are doing it, so I have to go be with my boys!'"
On Friday, January 13, the six actors will land in Green Bay, Wisconsin at Fox Cities PAC. The events will run from 7:00 PM to 11:30 PM. Tickets start at $38.00. On Saturday, January 14, the tour moves to Milwaukee, Wisconsin at the Pabst Theater. The events will run from 7:00 PM to 11:30 PM as well. Tickets start at $35.00. On Sunday, January 15, the tour ends in Chicago, Illonois at the Rosemont Theater. The events will run from 3:00 PM to 7:30 PM. Tickets start at $35.00 here as well. For more information on these events and information on how to purchase tickets visit A Tribute to Pine Valley.