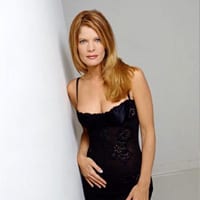 (SoapOperaNetwork.com) — A look at what's happening on "The Young and the Restless" during the week of November 7, 2011.
THIS WEEK ON: THE YOUNG AND THE RESTLESS
Genevieve decides to bring a veiled Myrna/Patty home, where she reacts to Jack's presence on Monday, November 7. Victoria purposely argues with Adam and reports it to Victor. Angelina is determined to make Kevin her very own. Kevin does a little hack job into Victor's computer. Cane's behavior once again has Lily running to Jill for answers. Things between Paul and Ricky become sour when Heather comes into play. Friday, November 11 Chance has a new assignment out of Genoa City.
The Inside Story: Phyllis Learns Nick Bedded Avery
Nick and Avery bask with one another after their sexual encounter. When Nick leaves to wash up his cell phone begins to ring. Avery purposely answers it to piss off Phyllis. She coyly tells her to come see her at her suite. Phyllis heads up and discovers Nick there with her and puts two and two together. Nick is stunned to see her on the other side of the door. After Avery leaves the room, Phyllis lashes out at Nick for bed-hopping with her sister. She spits out that Ronan has more evidence against him where Diane is concerned and storms out. Phyllis soon confronts Avery, who gloats that she has decided not to leave Genoa City after all. Their arguing soon turns into a family matter in regards to the crimes of their father George. Avery believes he is innocent while Phyllis points out that he wasn't as innocent as she wants to believe. Phyllis reveals that it was part of the family rift between them.
A Closer Look: Christine's Return to Genoa City Stirs up History
Christine Williams heads back to Genoa City to take care of business she has. While there she has a run in with Ricky. The encounter sparks memories for Christine and her relationship with Paul, and that of her dealing with Isabella. It is the same for Paul, who also remembers his relationship with his evil ex-wife. Through flashbacks of times with Isabella, Paul and Christine begin to wonder if Ricky could have the same personality as his mother. Paul soon becomes highly suspicious of Ricky in the process.
What To Watch
Monday Adam and Victor talk business regarding his position at Newman Enterprises
Tuesday Michael tells Phyllis that Avery is suing her on behalf of Daisy
Wednesday Family secrets come to light for Daniel.
Thursday Neil doesn't like the extreme closeness between Tucker and Sofia.
Friday Chloe is told more regarding Delia's sickness
The Young and the Restless News and Headlines
Melissa Claire Egan from All My Children has a contract role as Chelsea, beginning Friday, November 11
Lauralee Bell will be returning at Christine Blair on Wednesday, November 9
After many months of speculating whether she'd return or not, word is that Melody Thomas Scott will be coming back as Nikki Newman. Word is her first air date is slated for November.
Sean Kanan will be heading back in the role of Deacon Sharpe
Yvonne Zima returns as Daisy Carter on Monday, November 7 and Tuesday, November 8
Jerry Douglas returns as the ghost of John Abbott on Tuesday, December 13/li>
Y&R ALERTS BONUS: FALL 2011
Tragedy comes to the town of Genoa City in the form of Patty
Nikki returns back to Genoa City and is thrown right in the middle of the Diane Jenkins murder
The Newman men come back into Sharon's life one way or another now that she is free
Adam and Sharon both have a hard time with their feelings for one another
It's shaky ground for Sharon when it comes to a relationship with Nick and Faith
A mysterious woman by the name of Chelsea could draw Billy's secret in Burmese out into the open
Cane and Billy find common ground when Cane gives his support and understanding
Giving a helping hand could place Cane in harm's way
Avery's growing feeling for Nick has him also interested in her
Avery refuses to give up on having a relationship with Phyllis
Christine returns home not only to help in the Colin arrest, but also to find herself rehashing painful times with Paul regarding Isabella