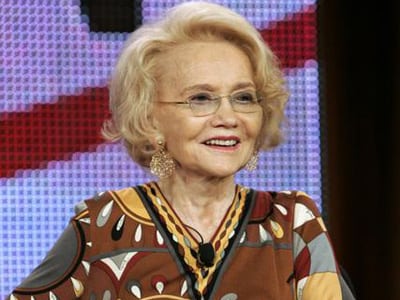 (SoapOperaNetwork.com) — As "One Life to Live" winds down production on its television run, the show has landed the mother of all returns — literally. Agnes Nixon, who created "OLTL" and sister soap "All My Children," will make an appearance on the show as, what else, a soap opera scribe.
TVGuide's Michael Logan is reporting that the 83-year-old Nixon will play Agnes Dixon, creator of "One Life's" 1980s fictional soap-within-a-soap, "Fraternity Row."
While the show is keeping mum on the storyline details, Logan writes that Nixon's character will be interviewed by Llanview's feisty television reporter Blanca Morales (Carolina Bermudez), and that the former soap parody will again become an integral part of the show's final weeks on ABC Daytime before airing its final episode on Friday, January 13 and begins online production with Prospect Park.
Nixon will tape her scenes on November 17. They will air the week of January 9.
This marks the second time Nixon has appeared on "OLTL." In 2008, she appeared as "Agnes" when Viki (Erika Slezak) went to heaven as part of the show's 40th anniversary. She also made cameo appearances on "All My Children" in 2005, 2008, and September of this year.