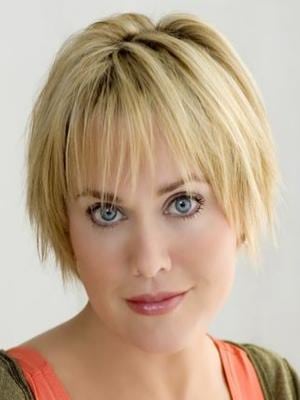 (SoapOperaNetwork.com) — "One Life to Live" casting odds and ends for the month of October and beyond.
Tonja Walker shares more details into her upcoming return to "One Life" as Alex Olanov, tweeting "so far I'm told I have a story, but I've only shot four episodes. Hope its only the beginning!" She also says that she "was happy with the way they [the writers] wrote Alex this time," but that she can't discuss her scenes with Farah Fath (Gigi/Stacy) and Josh Kelly (Cutter). Walker also tweets that her scenes will air in November and promises to post her airdates soon.
As we previously reported, Paul Hickert will appear on "OLTL" on Monday, October 17 as "Kentucky Cop #2." Yesterday, the Murray (KY) Ledger & Times posted an interview with Hickert, who played football for Murray State University from 1984-87 on their website. The Clearwater, Florida native, who now calls New York City home, spoke about his upcoming guest spot on the soap, notes that he will have several lines on "OLTL" as a cop, although he couldn't say much about why his scene takes place in Kentucky, only that one of the show's major characters finds their way there. Hickert also has a small role as an FBI agent the movie "Tower Heist," debuting in theaters on November 4th. The film, directed by Brett Ratner, stars Ben Stiller, Eddie Murphy, and Matthew Broderick. Click here to read a related interview with Hickert from the Murray State Athletics Official website.
According to various sources, including the actress' Facebook page, Teresa Patel will be joining the cast of "OLTL" in mid-October in an unnamed role. At this time it appears to be a minor role, however, that has yet to be confirmed.
Miss hearing Trevor St. John's (ex-Victor, Jr.) voice? If so, then you may be in luck. On Monday, October 17, John asks Téa (Florencia Lozano) if she wants to hear the voicemail Victor left Shaun just before he was shot. Also, in the same episode, Todd (Roger Howarth) has another vision of his late mother Irene (Barbara Rhoades).
Sara Oliver booked an Under 5 role on "OLTL" earlier this month.
"One Life to Live" recently released a new casting call, this time for the role of "Jill."
Farah Fath (Gigi/Stacy) tweets that she will be taping scenes every day this week on "OLTL."
Here comes the judge. Look for the dayplayer roles of a judge and assistant district attorney to appear in scenes in late October.
ABC Soaps in Depth clears up a little confusion among "One Life" fans, tweeting that "For those asking, although it didn't sound like him, that WAS Michael Easton doing the voice of baby Liam last week!"
Looks like there is about to be another catfight on the show. Last Thursday on her Facebook page, Shenaz Treasury (Rama) posted this picture of herself in make-up while on set with a scar on her cheek.
Sean Ringgold (Shaun) posted this picture of himself on September 30 with his onscreen girlfriend Kearran Giovanni (Vivian), showing their characters all dressed up while taping scenes for "OLTL."
Get ready for some big Starr and Todd scenes soon.  Kristen Alderson (Starr) tweeted on October 6 that she had "Filmed some classic Starr/Todd scenes today! You guys are gonna love it. Roger and I had so much fun filming. =)"
On October 1, Austin Peck (Rick) tweeted "I'm having so much fun with Mr. Rick Powers. He maybe a sociopath…but like in the best possible way."
Shenell Edmonds tweeted that she returned to "OLTL" on October 3 after being on vacation.
And Julia Davis, the show's make-up artist made several tweets last week on her Twitter page about cast and crew having several long days filming on set.