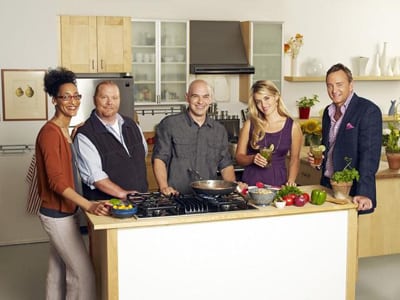 (SoapOperaNetwork.com) — As in previous weeks, ratings for soaps are unavailable at press time but the numbers are out for talk shows including "The Chew," "The Talk" and "The View."
Per Marc Berman at TV Media Insights, ABC's "The Chew" has reached its largest audiences since premiere week (week of September 26-30, 2011) in viewers while remaining flat in Women 25-54, Women 18-49 and Women 18-34 compared to its post premiere week averages.
Ratings for recently introduced ABC daytime talk show The Chew remained consistent from one week earlier, still trailing former occupant All My Children by noticeable proportions.  Based on the Live Plus Same Day data from Nielsen Media Research for the week of Oct. 17 (week four), The Chew averaged 1.94 million viewers, with no change demographically.  One year earlier, long-running scripted serial All My Children averaged 2.31 million viewers, with the demographic breakdown compared to The Chew as follows:

All My Children (ABC) – Week of 10/18/10
Viewers: 2.31 million, Women 25-54: 1.2/ 8, Women 18-49: 0.8/ 6,
Women 18-34: 0.5/ 3

The Chew (ABC) – Week of 10/17/11
Viewers: 1.94 million, Women 25-54: 0.9/ 5, Women 18-49: 0.6/ 4,
Women 18-34: 0.4/ 2

All My Children Advantage
Viewers: + 19 percent, Women 25-54: +33, Women 18-49: +33,
Women 18-34: +25

The Chew, of course, is cheaper to produce than All My Children, hence the programming change.  But sometimes the value of the audience is more important than the raw dollar figures, and the pending departure of One Life to Live for another talker, The Revolution, is also not likely to resonate in a daypart gutted with similar appeal programming.
For more on "The Chew" and how it compares to "The Talk" and "The View," head on over to TV Media Insights.