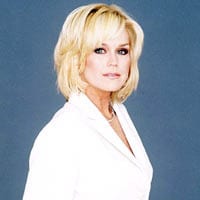 (SoapOperaNetwork.com) — Catherine Hickland becomes the latest in a series of former cast members returning to "One Life to Live" before the show wraps up its run on ABC Daytime.
Hickland, who portrayed Lindsay Rappaport from from 1998-2008 (and again briefly in 2009), tweeted on Monday that "Ok, are you sitting down? 'OLTL' has asked me to bring Miss Lindsay Rappaport to the dance B4 the end. I said YES." Two days later she posted a follow-up tweet thanking her many "One Life" fans for supporting saying, "I have received over 700 tweets in 2 days about going back to 'OLTL.' Thank you all 4 the love!"
When viewers last saw Lindsay in 2008 and 2009, she was serving out her prison sentence in Statesville for murdering Spencer Truman (Paul Satterfield). A first airdate has not been announced, nor is it clear how many episodes Hickland is returning for.