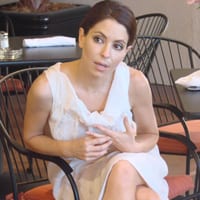 (SoapOperaNetwork.com) — "General Hospital" Episode Recap – Monday, October 10, 2011.
IT HAPPENED TODAY…
Jason and Sam enjoy their honeymoon, romantically joking about activities and Hawaiian shirts. But they are in trouble not only from Franco, but also from a frantic Carly with the best and worst intentions.
Steve and Olivia get romantic… and injured.
Lucky has an important conversation with Luke. And he hopes Luke will leave Lulu alone, too. But Luke packs a surprise.
Sonny awakens and grabs his gun – pointing it at Kate. They have a heart-to-heart, as Dante overhears. Abby tries to dissuade Michael from searching out the panic room and the drugs, to no avail. Michael is discovered in the panic room.
On the Next General Hospital…
Carly tries to convince Shawn to let her join him for some important business.
Franco sets up his next move.
Sonny stops Michael.