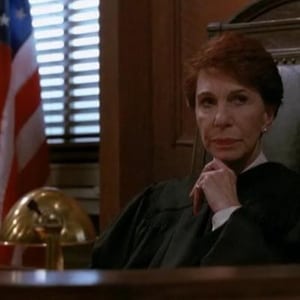 (SoapOperaNetwork.com) — Original "One Life to Live" cast member Doris Belack passed away Monday of natural causes in Manhattan. Belack potrayed Anna Wolek Craig on the show from 1968-77. She was 85 years old.
Belack had a lengthy television and film career spanning nearly 50 years. Her first TV appearance was in 1951 in the series "Treasury Men in Action." Four years later she performed alongside Sidney Poitier on the record "Poetry of the Negro," which was produced by her husband of 65 years, Philip Rose (who passed away on May 31).
In the early 1960s, Belack appeared in "East Side/West Side," and later guest starred in two episodes of "The Patty Duke Show."  She joined the cast of the new soap "One Life to Live" when it premiered in July 1968, playing Anna Wolek, a member of daytime's first Polish-American middle class family. Belack would stay with the show until 1977, at which time the role of Anna was recast with Kathleen Maguire from 1977-78, and Phyllis Behar from 1978-82, when the Anna was written off the show. In 1970, Belack made a guest appearance as Anna on "All My Children." Other soap roles included "Another World," "The Edge of Night," and "The Doctors."
After leaving "One Life to Live," Belack appeared in an episode of "Barney Miller" as Fish's wife Bernice,  Libby Levine in the 1977 feature film "Looking Up," which also starred her former "OLTL" co-star and onscreen sister-in-law Marilyn Chris, ex-Wanda Wolek.
Following roles in TV movies "The Last Tenant," The Jilting of Granny Weatherall," and "The Black Marble" (again alongside Chris), s"We're Fighting Back" and "Hanky Panky," she landed one of her most memorable film roles, playing soap opera producer Rita Marshall in "Tootsie." Around the same time, she had a starring role on the short-lived CBS comedy series "Baker's Dozen."
Through the 1980s, Belack's career continued to flourish with parts in the films "The Cradle Will Fall," "Sessions," "The Hearst and Davis Affair," "Almost Partners," "*batteries not included," "She-Devil," "Fast Forward," "Hostage," "Splash, Too," and "The Luckiest Man in the World." She also guest starred in numerous television series, including "Family Ties," "The Cosby Show," "Cagney and Lacey," "Remington Steele," "The Golden Girls," "Mr. Belvedere," "Off the Rack," "Scarecrow and Mrs. King," "Mary," "Emerald Point N.A.S.," "Hometown," "The Equalizer," "Baby Boom," and "Anything But Love."
Belack stayed action in television and film even into the 1990s, starring in the  short-lived ABC primetime series "Laurie Hill," and equally brief CBS comedy "Family Album." She also co-starred as Dr. Catherine Tomsky in the 1991 Bill Murray feature film "What About Bob?," and as Dr. Roberts in 1994's "Naked Gun 33 1/3: The Final Insult." Other film appearances include "Opportunity Knocks," "Absolute Strangers," "What's Your Sign?," "Krippendorf's Tribe," "The Odd Couple II," and "Fail Safe." Belack also guest-starred in a number of TV series during the '90s including "Mathnet," "Lifestories: Families in Crisis," "Picket Fences," "Chicago Hope," "Ellen," "Public Morals," "Prince Street," "Dellaventura," "Touched By an Angel," "Cosby," and "New York Undercover."
In 1999, she provided the voices of Mayor Tippi Dink and teacher Ms. Wingo in "Doug's 1st Movie," after having voiced the characters throughout the animated series' television run. Also, between 1990 and 2001, she played Judge Margaret Barry in ten episodes of "Law & Order" and two episodes of "Law & Order: SVU" from 2000-01.
Other TV and film credits include the short film "The Lovers" and the television series "Now & Again," "Madigan Men,"  and "Everwood." Belack's last television appearance was in a 2003 episode of "Sex and the City," and her final film roles were in "Prime" (2005), which starred Uma Thurman and Meryl Streep; "Delirious" (2006 ), starring Steve Buscemi, and "Arranged" (2008).
Belack was also voiced characters in the video games "True Crime: New York City" and "Grand Theft Auto IV," where she voiced the character of Maureen McReary. And between 1960 and 1990 she appeared on stage in productions of "The Cemetery Club," "Cheaters," "The Trip Back Down," "Bad Habits," "Last of the Red Hot Lovers," "The Ninety Day Mistress," "Nathan Weinstein, Mystic, Connecticut," "The Heroine," and "Semi-Detached."
A joint public memorial for both Belack and Rose will be held on Monday, October 17, at Noon ET at the Ambassador Theater in New York City.