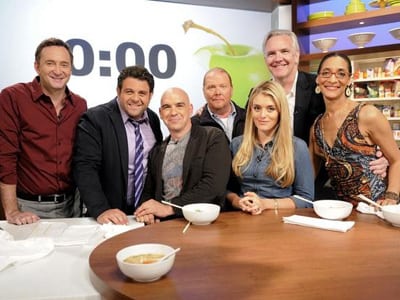 (SoapOperaNetwork.com) — Marc Berman of TV Media Insights has been doing an excellent job in reporting the overnight ratings data for ABC's new daytime talk show "The Chew," which replaced soap opera "All My Children" in the 1:00 PM ET/12:00 PM PT timeslot on Monday, September 26. Since the talker debuted it has lost ground compared to "AMC's" performance at the same point last year in television households. Now more than a week since its debut, Berman has revealed that the show is also losing ground in the all important Women 18-49 sales demographic compared to how "All My Children" had performed as well.
Per TV Media Insights, "The Chew" is averaging a a 0.9 rating/6 share among women 18-49 out of a 0.8/6 from the average ratings of its lead-in programming from the ABC affiliated stations (ie. syndicated fare such as "Who Wants to Be a Millionaire" or local news) after six days on the air (September 26 through October 3, 2011). "All My Children" by comparison averaged a 1.1/7 in the female demo (using October 2010 averages), which was 18% better than how "Chew" is performing so far. In the less important Women 25-54 demographic, "Chew" is averaging a 1.1/7 out of a 1.2/8 from its local lead-in averages. "AMC" averaged a 1.5/9 (again using October 2010 averages). Based on these numbers "Chew" is down 8 percent from its local ABC programming lead-in and 27 percent from how "AMC" performed one year earlier.
Final first week ratings data, including total viewers, for "The Chew" won't be available until Thursday.