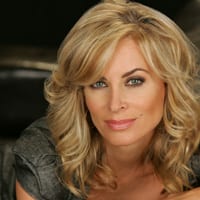 (SoapOperaNetwork.com) — "The Young and the Restless" Episode Recap – Monday, September 19, 2011.
IT HAPPENED TODAY…
Abby went to Victor to tell him the latest drama she created for herself. She shared with him how she wore a wire for Malloy in an effort to catch Tucker admitting he killed Diane Jenkins. She told Victor how she instead Malloy overheard her conversation with Ashley about the night she was in the park. Victor told Abby to stop confiding in others, but do so with family. He assured her he would take care of everything.
Ashley was still upset that Abby wore a microphone. Tucker asked how she responded to being found out, but Ashley shared that Abby took off before they could talk. He guessed that she was scared about something other than being lectured. He gave Ashley a heads up on Ronan trying to get in contact with her. Just then the phone rang. She told him she was going to go see him, while he kept a eye out on if Abby returned or not. When she reached the police station, Ronan played her 'confession' for her. He wanted to know what if she called Nick in order for him to help her get rid of Diane's body. When she refused to answer him, he pulled the bloody rock out of drawer, placing it in her hand. He wanted to know how many times she hit Diane over the head with the rock until she was dead.
Kevin lectured Billy for sneaking out to see Delia. He warned Billy that by doing it would only make things worse for Delia, especially if he's trying not to be found out by anyone. When Billy agreed, Kevin started to wonder what he could possibly be up to. Billy didn't hide his frustration at not being able to see his daughter. Kevin wanted to know what Victor had on Billy, but Billy kept quiet. Back at the hospital, Chloe read to Delia, who complained of a headache. The nurse comes in to take her vitals. She has a slight fever. While Delia is resting, Chloe calls Kevin, leaving him a message.
Jill was having a drink, when she pulled out the note that Genevieve wrote. Still miffed that Colin ran off with his ex, Jill set the note on fire and tossed into the ashtray. As for Colin, he was still locked in the wine cellar with Gloria. Colin slowly learned that Genevieve purposely set him up in order to keep him and Jill apart. A tipsy Gloria babbled about how everyone seemed to focus on Jill. Both questioned the other on who would be looking for them. When Colin went over to a section of the wine cellar, he unwittingly stumbled upon a hidden craps table that lowered down. They realize that there is another hidden area. The go inside, in hopes to see if they can find a way out. Unfortunately, they come up short.
Ronan continued his interrogation, asking Ashley was there to witness Diane's last breath after taking her life. Ashley told him that she didn't do anything to Diane. Ronan tossed in that he's aware that she was angry that Diane was fooling around with Tucker. It's then that Ashley tells the detective that their conversation is done. As she was heading out, Ronan brought up how Kyle must be wondering who would hurt is mother. He then jabs her with her thinking about her daughter and how hurt she could be. The minute she walks out, he calls to have a police detail tail her. Shortly after placing the tail on Ashley, Victor arrived and told Ronan to leave his family alone. Outside of Ronan's office, Victor received the call to let him know that the blood work for Billy came in.
Tucker shows up at the Athletic Club and takes a seat across from Jill. Jill shares that Colin took off with Genevieve. Tucker offers a little sympathy. Jill mentions how Tucker not once tried to warn her about what she was getting into when she was set to marry Colin. She bemoans how Katherine will be all over her when she learns what has happened. Tucker doesn't mince his dislike for Katherine, calling her a 'busybody'. During their talk, Jill lets slip that Katherine has managed to give Devon a job in the music industry. Tucker can't believe what he is hearing. Meanwhile, Devon walked into Gloworm and spotted Abby. The minute he approached her, she started in on how she felt about Tucker. Devon changes gears and shares his news about his job.
In Billy's trailer, Victor arrived to tell Billy that he is a match to save Delia. He then instructs Kevin to head to the hospital to inform Chloe that he matched after all. As for Chloe, she gets a visit from Ronan. She admits that if she weren't with him in his hotel room, she might have been able to be there for her daughter sooner. She also admits that if she hadn't fought Billy for custody, he'd still be in town and be there to help his daughter.
Outside of the police station, Ashley hurriedly rips up the photos that were taken of her and Diane, tossing them into the dumpster. While Ashley was hiding incriminating photos against her, Tucker was at Gloworm approaching Devon, curious to know about his job from Katherine.
Billy was overjoyed that he was a match for his daughter, but a cold Victor told him that once she was fully in the clear, he was to leave town. He said both Victoria and Delia would be better off without him in town at all. Meanwhile, at the hospital, Kevin gave Chloe the news that he was a 'match' for Delia.
Ronan returned back to the police station and was being briefed on Ashley and her whereabouts. The police officer handed him a Zip-loc bag with the shredded photographs. Back at the apartment, Abby waited for Ashley, who wanted to know if she was there to apologize.
On the Next The Young and the Restless…
Tucker blasts Abby for her actions
Billy has it out with Victor
Kevin gets ready to confess to Victoria